8 Things You Need In Your Life This Summer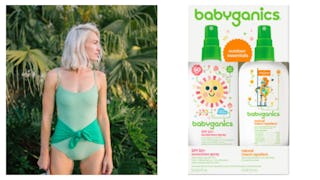 https://antsypants.com/products/ice-cream-truck-cover
We are in the thick of summer, and we all want to enjoy it as much as possible. Whether you're spending time at the beach, playing in the backyard with the kiddos, or just want to be fabulous, Scary Mommy compiled our favorites things for you and your family to enjoy this season.
It's bathing suit time and by now, we've probably tried them all. And we love these suits by Raising Wild. They are fully lined, and come with a shelf bra, full bum coverage, and are great for nursing moms. These suits were designed for mamas who want to spend a day at the beach or pool with their kids and move around with comfort. And the best part is you can also order one to fit your child if twinning is your thing.
A stylish, sand-free beach tote is a must for all those trips to the beach when everyone brings home more sand than is at the beach itself. We love the sturdy handles, sand-free bottom and pockets, and magnet closure. You are sure to have a sand-free lunch with this baby.
Fingerlings are one of the hottest toys around, and they now have a new ombre collection which includes 8 two-tone monkeys. These interactive pets love to cling to you, blink, turn their heads, blow kisses, wag their tails, and talk.
4. Feminist Tote Bag
Not only is this bag feminist AF, it makes the perfect beach bag with its strong leather handles and sturdy canvas body. Celebrate all of women's accomplishments with this awesome bag.
These easy to build kits are durable and can be transformed into anything your mind can imagine. First, pick out a frame, then you can choose from a few fun covers (sold separately) to fit over the framework. These are affordable and are sure to keep your kids busy inside on a rainy day, but can also be a fun outdoor activity for the whole family.
6.Antsy Pants Kites
Kites are always a good idea, and this pineapple kite snaps together with no problem and can be taken to the park, beach, or enjoyed on a lazy afternoon in your backyard.
Babyganics sunscreen and bug spray duo kit is the perfect way to keep your little ones free of sunburns and pesky bugs this summer. The sunscreen is non-allergenic, tear-free, and glides on smoothly for an easy application. The insect repellent is DEET free and smells lovely as it's made with essential oils.
Stock your fridge with energy drinks you can feel good about. K+ Organics is a sports drink for the whole family that is made with natural coloring, flavoring, and has only natural sugar.
There you have it: a few things to make this summer a bit happier for your kiddos as well as some treats for Mama. We all know it's the little things, like a great fitting bathing suit and a great beach tote, that make us happy, and in turn, help the whole family live this season to its fullest.
Editors may receive samples and/or a share from purchases made via links on this page. All opinions are our own.
This article was originally published on