My Daughter Almost Died Because of an Unanchored Dresser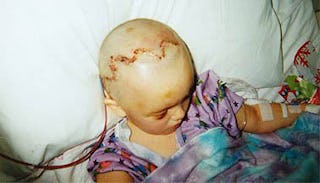 Two years ago, my daughter Brooke had just woken up from a nap. She was walking in front of me through the living room; I remember watching the cute little skip in her step. I followed behind her and sat down at our computer desk in the hallway right next to her brother's bedroom. She walked into the bedroom, and then I heard the crash. Instantly, our lives changed forever.
I remember looking into the doorway and seeing the bottom of the dresser, but not Brooke. I panicked when I realized she was underneath the dresser. I was only able to partially lift the dresser myself because I had just had a major back surgery. My effort had gotten the weight of the dresser off of her head, and I was hanging on with all my strength. I was screaming for my husband, Matt. He literally threw the dresser from her into the corner of my son's room. I saw her reaction…she shuttered or jerked a little and then I saw the blood coming from her left ear.
I can vividly remember that feeling of utter despair – the thoughts of fear and anxiety rushing through my mind as I was relaying the information to the 911 operator. Somehow the police and fire department arrived within minutes, and we were faced with choosing which family member would ride in the ambulance. I don't know how but my husband decided that I should, and then we were heading toward Dell Children's Hospital.
When we arrived, I remember feeling out of my body, like I was watching it all happen. I saw myself standing there bawling, and watched my child's clothing being cut off of her body. I remember trying to speak to the doctors, to say I was her mommy – to please help her. One doctor spoke up and said, "Mom, we will talk with you later." My legs just sort of collapsed as I slumped into a chair feeling helpless. I sat for maybe a second, and then I jumped up. My mind was reeling. I had to call my mom and dad – where was Matt? Oh my God, this was really happening. Oh my God!!
Brooke had air in her brain, but the initial prognosis was that the brain looked good. We were given a window of 72 hours. The air in her brain was due to 3 different skull fractures. With the skull fractures they were concerned about fluid leakage which could cause an infection of cerebral fluid….causing meningitis. She had shattered the orbital bones above her eyes and had broken a bone very close to the auditory nerve in her ear. Despite all of this, she seemed to be doing well according to the doctors. If all went well with her brain, we would still have to have surgery to repair the tear in her dura (the membrane around her brain) and reconstruct the bones above her eyes. The only way to perform this surgery would be a craniotomy–an ear to ear incision to enter through the top of the skull. The neurosurgeon would protect her brain and repair the torn membrane and the plastic surgeon would repair her orbital bones. Without the surgery she could lose her eye sight or suffer from double vision and/or be facially deformed or even die from infection. We had no choice. I heard brain and skull, and I lost it.
Two years after the accident, she has miraculously made a complete, 100% recovery… but I haven't.
I am steel reeling from the emotional after effects of Brooke's accident. This all happened because she was reaching for a Barbie doll at the top of her dresser – a dresser that was never anchored to the wall. When I walked into the room, after we came home from the hospital, there was still blood on the floor. I walked up to that dresser and put my foot in the bottom of it. It tipped so easily. At that moment, in frustration I pushed at the dresser with all my might, as if I could transfer my pain to the source. I took my hands and hit it in anger, until they were turning red and trembling with pain. I knew though, it was not the dresser's fault but OURS. A simple attachment of the dresser to the wall would have prevented what our family went through. Why had we not simply attached it to the wall?
As a parent, your worst fear is for something to happen to your child. You are their protector, and your job is to make sure that nothing happens to them. But, accidents do happen. Things do happen that are out of our control. However, nothing can prepare you for how it feels when you see your child laying on a hospital bed broken, bruised and in pain. The thought of losing her just tore into my entire self – it was overwhelming. And, the guilt, why did we not have that dresser strapped to the wall? It was such a simple thing.
Brooke did amazing during and after the surgery – her recovery truly a miracle. After the surgery her swelling was minimal and her bruising around her eyes became her pink and purple eye shadow. The doctors had told us to expect her to be unrecognizable – but, it was our sweet Brooke (just with eye shadow and well, no hair). She was a sport about her new hair-do and she was even more beautiful with her "Princess Crown." There is not a day that goes by that I do not thank God for letting her stay in my life – He let our angel stay, and for that I will spread this message.
I am on a mission to raise awareness to the dangers of unsecured furniture. We are so blessed to have been given a second chance, but not every family is so lucky. The staggering statistic that I can't get out of my mind is that a child is severely injured or DIES every 2 weeks from a furniture tip-over accident. This type of accident does not discriminate – it can happen to any age parents or ANYONE that might have a young child enter into their home or place of business. I urge you to take the proper precautions to secure your furniture to the wall…NOW. Just like buckling your child's seat belt, installing furniture safety straps could save their lives.
No family should go through what we have.
This article was originally published on