My Friends Give Me A Little Joy In My Pocket
by Kim Bongiorno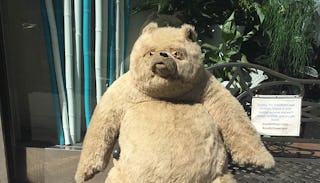 My six favorite words from the people in my life are, "I am sending you a picture."
Everyone hopes for the kinds of friends who do things like offer child care in a pinch, dresses to borrow for fancy occasions or a shoulder to cry on in tough times. Over the years, I've got into the habit of seeking these people out. I've found that kind people are everywhere as long as you're willing to look for them. These friends are wonderful to have. They add a certain security to my life that eases the pressure of being a mom, wife, sister, daughter and professional writer.
But what I need to feel truly happy are the kinds of people who see weird shit, immediately think of me, gather photographic evidence and then send it to me. I'm lucky to have married a man who walks around New York City between meetings and snaps photos for me. These shots include terrifying human-sized stuffed animals in shop windows, people who appear to be dressed in cosplay but probably dress like that normally, and dogs in S&M gear.
I feel spoiled rotten that I have friends who do this too. Over the years, I have received a selfie from a friend prepping to celebrate her birthday by wearing a thick bleach mustache and turban, another friend dressed like Carmen Sandiego because I asked her to be discreet about something, a funny postcard of an old man cursing out his grandkid and lots of animals pooping in public places.
Recently, a girlfriend got me on the phone and said, "Hold on. I am sending you a picture." Little excited me more, for she trolls estate sales and always makes incredible finds, both beautiful and amusing. Would it be a vintage typewriter? A cheeky tin sign? Nope. My screen filled with the image of a box of 1920s rectal dilators. While looking around someone's basement, she came across a lidless box of items that looked really phallic to her. Without thinking, she picked one up to inspect it more closely before noticing the lid with a description of the box's contents resting on the other side of the table. Imagining how quickly she dropped the instrument when it dawned on her where it has been had me in tears—as did her confession that as soon as she did, she immediately snapped a photo for me.
Sometimes—like during this phone call—there is a story behind the photo. Other times, it's just a text out of nowhere and with no explanation. Of course, this means that I absolutely can never let my kids check my phone when it dings, but keeping my most expensive gadget out of the sticky hands of my offspring is a sacrifice I am willing to make for these little joys.
That's exactly what they are to me: very important little joys.
Life is so full of pressure and stress and obligations and bad news and worse news and sleep deprivation and those two little lines between my eyebrows getting deeper and deeper despite the new eyeglasses and fancy face creams because I'm furrowing so much more than I ever thought I would. I feel bombarded at home by the natural interruptions of family, on social media with sad information and exhaustive screaming headlines, on the streets dodging cars driven by people texting instead of looking around them, and in the stores as salespeople try to squeeze commissions out of me despite my polite, "No, thank you." The weight of it all gets to be too much and makes me yearn for an escape, but I'm too caught up in it all to even try.
Then my pocket vibrates.
And then I see a peculiar photo from a friend who gets my sense of humor in a way that speaks volumes. My quick bark of laughter explodes into the air, rushing away the crush of the day and I do escape. As I soak in the strange gift, I shake my head in disbelief at my ridiculous luck, loving that my friends know I appreciate these messages more than soup when I'm sick, more than advice when I'm stuck.
My hope is that I am never without these friends who keep me on my toes, sending little joys to my pocket before I even know I need them.
This article was originally published on