This Is My Korean Mother's Anti-Aging Skin Care Routine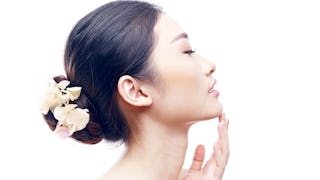 imtmphoto / Getty
Even if you're born with good skin, your skin is bound to age. Before I got married at the age of 24, I was busy with school and didn't take proper care of my skin. My skin was young then, and I wasn't so concerned with anti-aging. Since then, my sister-in-law has opened my eyes to the world of Korean skin care, and I've been obsessed with finding ways to keep my skin young and firm—at least for a woman in her fifties.
My skin care obsession comes from my 53-year-old mother, Meegyeong Park. Despite practicing full-time as an ophthalmologist in Korea and raising three kids, she somehow found time to become a Korean skin care expert. Here is her full anti-aging skin care routine and tips for younger-looking skin.
Cleanse
Instead of the traditional double cleanse, I triple cleanse with one product: an all-natural soap free of harmful chemicals. I've recently discovered the magic of noni, a fruit-derived ingredient effective in anti-aging, and I wash my face with it three times back to back using lukewarm water. It removes all my makeup without stripping the moisture from my skin. I only bought one box of these soaps by the brand Venezia while on a family vacation in Boracay, an island in the Philippines, and I wish I had bought a lifetime supply.
Tone
After cleansing, I don't dry my face with a towel, and I move straight into applying toner. It's important to bring moisture into your skin as soon as you're done cleansing, so I never waste time being distracted when I do my skin care. I always use a spray toner so I can tone my skin without touching my face with my hands, which carry bacteria that cause breakouts. I also prefer toners that come in dark-colored bottles, which prevents the formula from changing with sun exposure. But of course, products still expire, in which case I throw them out immediately.
Lately, I've been enjoying the Benton Snail Bee High Content Skin, which one of my daughters has recommended.
Serum or Essence
I apply a generous amount of serum—sometimes twice in one sitting. In the morning, I use a Vitamin C serum like the Professional-C Serum by Obagi, a line developed by dermatologists that my husband (who's a plastic surgeon) has recommended. In the evening, I use Estee Lauder Advanced Night Repair. I like serums that come with a pump or a dropper, so I can apply the product without using my hands. Two of my favorites are the Iope Live Lift Serum and the Innisfree Green Tea Seed Serum.
Moisturizer
Because my skin is so thin and dry, if I don't moisturize properly, it starts to sag and I can see that my wrinkles start to deepen. That's why I take moisturizing seriously. Rather than misting throughout the day, I layer on a light moisturizer twice or three times throughout the day. With two daughters, I often end up using whatever moisturizer they leave behind. But when I look for moisturizers, my usual criteria are (1) something that comes with a pump so I can minimize contamination, (2) light texture that doesn't clog my pores if I put on a lot of product at once, and (3) something that feels hydrating and cooling for the skin.
I use a different moisturizer morning and night. In the morning, I use a light and gentle moisturizer, like the Klairs Rich Moist Soothing Cream, the Skinfood Royal Honey Essential Queen's Cream, or the Laneige Water Bank Moisture Cream EX. At night, I use a thicker moisturizer, like the Estee Lauder Advanced Night Repair Cream or the Goodal Moisture Barrier Cream. But I add my own twist to it by mixing in pure pearl powder.
Pearl is a natural ingredient that brightens skin and fades sun spots and pigmentation. For me, I noticed that it also makes my skin soft and firm. I take a sterilized jar and spatula and mix pearl powder with a night cream so that it's 15-20% pearl powder. I apply the mixture in the evening with a spatula and clean hands. I've been doing this for the past 20 years, and brightening every day using pearls is the number one secret to my smooth, even-toned skin.
I buy pearl powder only when I'm on a family vacation in southeast Asia—my last batch was from Thailand. That way, I can be sure that the ingredients are top quality.
Plant-based oil
I've been using oils in my routine for the past 25 years. I really like oils infused with ceramides, like the Elizabeth Arden Advanced Ceramide Capsules Daily Youth Restoring Serum or the Neogen Dual Layer Ceramide Oil. I apply oils twice a day, in the morning and at night, all over my face, neck, and hands, but sometimes during the day, too, when my skin feels dry. I always wait until my moisturizer is absorbed before applying the oil, and I make sure not to apply too much oil at once. I know some people are afraid of oils or avoid putting it on their T-zone, but I apply a thin layer on my T-zone and forehead.
On my body, I also apply coconut oil right after I shower when my skin is still damp. I apply a few drops of avocado oil to my hair as well.
SPF
The main enemy when it comes to anti-aging is the sun. I wear sunscreen everyday, even on weekends when I don't wear makeup. If I'm leaving the house, even for a quick errand, I wear a hat with a large brim and big sunglasses to prevent the sun from causing wrinkles on my forehead and eye area.
I first started using sunscreen at the age of 24 with Clinique's Super City Block. I used it for about 10 years before switching over to Obagi, and recently, I upgraded to the Obagi Professional-C Suncare, which contains antioxidants and Vitamin C to protect your skin from the sun while fighting wrinkles. That way, I'm brightening my skin day and night—in the morning with Vitamin C, and at night with pearls. When I look for cosmetics, I make sure to buy products that contain only the essentials—no artificial fragrance or filler ingredients.
Once in a while: Exfoliate
I exfoliate once every three days in the morning using a gentle peeling gel that hydrates my skin while effectively removing dead skin cells. I've been using the Orléans Noni Essence for the past five years.
Once in a while: Sheet mask
Once a week, I use a sheet mask. I love masks that contain hyaluronic acid or pomegranate extracts like the Missha Speedy Solution Brightening Eye Patch for the eyes or the Skinfood Black Pomegranate Gel Mask for the face. I make sure I leave the masks on my skin for no longer than 20 minutes.
Avoid touching your face
This is my number one rule for a great anti-aging skin care routine. Aside from cleansing and moisturizing my face twice a day, I rarely touch my face throughout the day, especially the eye area. I also often wash my sheets and pillowcases, and I even put a clean towel on my pillow every night before I go to bed. This is very important, since the pillow comes in contact with my face all night.
Take care of yourself
Instead of focusing on acquiring new and fancy techniques to cover up bad skin, I focus on improving my skin and doing only the things that are good for my skin. That's why I always wear light makeup to prevent my skin from breaking out.
I also never drink or smoke. I eat yogurt every day to prevent constipation, which makes my skin look dull, break out, and puts me in a bad mood. I sleep early, eat lots of vegetables and superfoods, and drink green tea instead of coffee. I take care of my mind by doing yoga and meditating.
Originally published on The Klog.
This article was originally published on