The Original My Little Ponies Are Back, Your Inner Child Is Squealing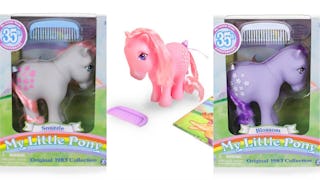 Image via Basic Fun
BRB, going to Target to buy all six original My Little Pony toys
I pretty distinctly remember riding my little bike in circles around my family's back patio, carrying My Little Pony toys in that bike's white wicker basket. I remember wrestling with my brothers over the remote, because My Little Pony was on at the same time as some dumb show they wanted to watch — I don't know, probably Power Rangers or something else that's clearly inferior to the heroes of Ponyland. But somewhere along the line, something terrible happened to My Little Pony.
Somewhere along the line, My Little Pony turned into this.
Oh my broken, '80s baby heart.
But fear not, fellow MLP fans! This year marks the 35th anniversary of My Little Pony, and to celebrate, the six original ponies are coming back as collector toys.
Company Basic Fun has revamped Minty, Blue Bell, Butterscotch, Snuzzle, Blossom, and Cotton Candy for their 2018 release, and just like you remember, each pony comes with a hair ribbon and that tiny blue plastic comb that you broke so many teeth off of in your own tangled hair. They also each come with a mini collector poster that you know your child self would have been obsessed with.
RELATED: Best Cotton Candy Machines For Kids Who Love Sugar (AKA All Kids)
The ponies have already hit shelves, and you can pick up all six at Target and Toys R Us in the U.S., and !ndigo in Canada. And come August, Basic Fun will add the original rainbow ponies to the mix, so you'll be able to get Sunlight, Starshine, Windy, Parasol, Skydancer, and Rainbow Cotton Candy, too.
It's the collection you dreamed of as a kid, and will definitely be completing now that you're a grown up and don't have to beg your parents to buy you toys. Plus, introducing a new generation to the OG My Little Pony is probably exactly what 2018 America needs.
This article was originally published on