My Nanny Is A 'Dreamer,' And This Is What Happened When She Lost Her DACA Status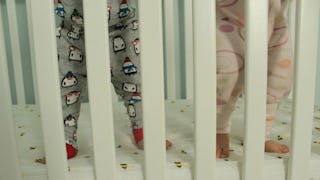 Brittany Aguilera
I met Brittany Aguilera when we were searching for a nanny for our twins. They're toddlers now and literally running in opposite directions, but back then they were only five months old. Just feeding them at the same time was a challenge — they couldn't hold their own bottles yet or sit up independently — so we were nervous about finding the right person. We put together a list of questions and interviewed a dozen candidates. Brittany was recommended by a fellow twin mom, and as soon as we met her, we agreed she was the one.
Taking care of one infant isn't easy, let alone two. But the job turned out to be harder than Brittany bargained for when our son needed an orthotic helmet and physical therapy. I was totally overwhelmed. I couldn't imagine how we would manage the extra appointments — as many as six in a single week — on top of everything else.
Brittany approached our son's special needs with the unflappable calm she brought to the rest of her job. Wrangle two babies at storytime? No problem. Tandem feed two hungry mouths? Piece of cake. As parents, we felt lucky that the Deferred Action for Childhood Arrivals (DACA) program had enabled us to hire Brittany.
Then, out of the blue, Brittany found out her DACA status wouldn't be renewed. She was about to lose her right to live and work here lawfully.
Here are four things I learned from that terrible experience.
1. People can be deported because of a simple paperwork mistake.
When President Trump announced that he was ending the DACA program, he set the deadline for DACA applications on October 5, 2017. To be safe, Brittany mailed her application in September, a few weeks early. She got the application back in the mail with instructions to fill in a missing signature and send it back. In a cruel twist, the returned application arrived on the October 5 deadline. Still, Brittany wasn't worried, since she'd mailed her application on time originally. Then they told her it was too late to reapply. A simple paperwork mistake had cost her her job, her driver's license, even her ability to walk down the street without risking deportation.
2. We all have to do our part.
I'm a lawyer who fights discrimination for a living, but I was at a loss for what to do for Brittany. I frantically called and emailed my senators, congresswoman, and even my local city council to ask them to commit to a solution for Brittany and others like her. Our elected officials need to hear from us that DACA matters.
3. The failure to fix DACA affects all of us.
Since last fall, lawmakers have had many chances to fix DACA — and blown them all. That's a big problem. The failure to fix DACA doesn't just affect the 800,000 Dreamers. It also affects the many more Americans who love them and rely on them, like my family. And when their lives are thrown into uncertainty and chaos, it affects us too.
4. It takes a village.
We couldn't fix Brittany's DACA status, but at least we could hold her job for her. We agreed to wait two months. Two months became three. The daily scramble to find childcare was hectic, and we both missed work to cover gaps. Aunts, uncles, family friends — even my spouse's boss — pitched in to babysit. We knew we wouldn't find anyone as reliable, nurturing, and unshakeable as Brittany.
Brittany's story has a happy ending, for now. After a federal judge ruled that President Trump's decision to end DACA was arbitrary, Brittany was allowed to reapply for a residence and work permit. I couldn't wait for her to come back, but I was anxious at the same time. It had been three months, a huge percentage of a toddler's life. Had too much time passed? What if the kids didn't remember her?
I steeled myself for the reunion to be bittersweet, but it was even better than I could have imagined. A week after Brittany came back into our lives, our son took his first steps. In the video she captured of him, you can hear her in the background encouraging him to keep going. Some people who know our story think he was waiting for her, but I'm not sentimental. The truth is, Brittany's diligent work with him, day in and day out, was all he needed to make that leap.
On Easter Sunday, I texted Brittany photos of the kids wearing bunny ears. Meanwhile, President Trump threatened to go back on his promise to fix DACA. "DACA is dead," he tweeted. My heart sank.
My family knows that we Americans need Dreamers just as much as they need us. I just hope Washington realizes that before it's too late.