#MyDepressionLooksLike Shows The World What It's Really Like To Live With Depression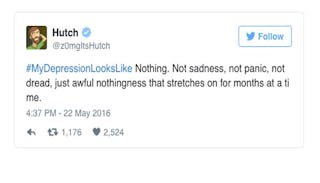 #MyDepressionLooksLike shows how depression manifests in very different ways
#MyDepressionLooksLike is trending on Twitter as people share their stories and give others a glimpse at what it's like to live with the disorder. It's great to see a conversation sparked about a topic that is often hard to talk about and leaves sufferers feeling isolated.
#MyDepressionLooksLike appeared on Twitter in January but started trending Sunday night with thousands of tweets pouring in every hour well into Monday evening. A lot of people – about 350 million globally – can relate because they have depression, according to the World Health Organization. A few of the common symptoms of depression are persistent sad, anxious, or empty moods, irritability, and loss of interest or pleasure in hobbies and activities, and decreased energy or fatigue, according to the National Institute of Mental Health.
Twitter users showed that these symptoms can manifest in many ways.
Depression doesn't manifest in one way. It's a very hard thing to describe to those who don't suffer. The hashtag is shedding some light.
It's sobering and heartbreaking to see just how much people suffer.
Talking about depression helps though. And often it is easier to talk about our struggles with depression, anxiety, and other mental health disorders with strangers. I know therapy helped me work through various issues at different times in my life. And it looks like this hashtag is helping plenty of people.
If you haven't already, check out all the messages shared on Twitter. And if you're struggling with depression consider these ways to help alleviate the pressure from mental health experts.