Trump Just Called A Fallen Soldier's Pregnant Widow A Liar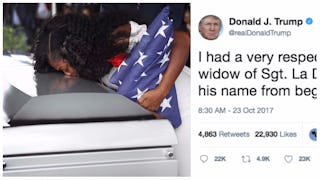 Image via Joe Raedle/Getty Images
The answer to "Can Trump sink any lower?" is "Yes"
Last week, there was some controversy over a call Trump made to a pregnant widow, on the way to receive her husband's body on an airport tarmac. Florida Congresswoman Frederica Wilson was also in the car when Trump called — and the conversation with the widow happened on speaker phone.
Myeshia Johnson is the pregnant widow of Army Sgt. La David T. Johnson, one of the four Green Berets killed in an ambush in Niger at the beginning of this month. Trump was calling to offer condolences, after being pressed at the beginning of the week to explain why he hadn't yet called to offer condolences to the families of the four fallen soldiers killed weeks ago. The call did not go well.
Wilson was horrified with what she heard Trump say to Johnson. Trump's idea of "condolences" was to tell the widow her husband "knew what he signed up for." He didn't even remember her husband's name. Johnson was shaken and even more upset after the call. Wilson was so horrified, she made a public statement about it. That's when Trump began attacking her character and calling her a liar.
Well the soldier's widow spoke up for the first time this morning on Good Morning America about the incident. And she maintains that Congresswoman Wilson was telling the truth about the phone call.
"Whatever Ms. Wilson said was not fabricated. What she said was 100 percent correct… Why would we fabricate something like that," she said to ABC. She also said she was beside herself at the fact that Trump didn't remember her husband's name: "He couldn't remember my husband's name. The only way he remembered my husband's name because he told me he had my husband's report in front of him and that's when he actually said La David. I heard him stumbling on trying to remember my husband's name and that hurt me the most because if my husband is out here fighting for our country and he risks his life for our country, why can't you remember his name?"
Now, to add insult to injury, Trump is calling the widow a liar — because of course he is.
Is there a low to which this man won't sink? Calling a pregnant widow — carrying a child of a fallen American hero who will never lay eyes on his child — a liar? Many have become almost numb to Trump's transgressions, because they are so rampant. But nothing could prepare us for this.
https://twitter.com/jetpack/status/922440376497172480
Trump took days to publicly discuss the attacks, which is horrible on its own. And when he finally did, he stooped even lower than normal by suggesting Obama didn't call grieving families either (LIE). Then he managed to make the loss of life about himself, saying it was really hard on him to make those calls.
Now he's calling the widow of an American hero a liar.
So the answer to "Can this man stoop any lower?" will always be, "Yes. Yes he can."
This article was originally published on