NAACP Blasts Trump: 'You Thought Taking A Knee Was Too Much?'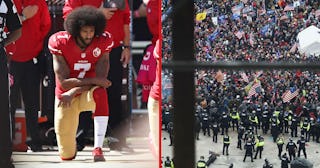 Ezra Shaw/OLIVIER DOULIERY/Getty
As the NAACP has pointed out, Trump's hypocrisy has never been more glaring than it is now
Wednesday was a horrifying, heartbreaking day for American history. Donald Trump rallied and encouraged a mob of armed supporters to storm the U.S. Capitol building, while lawmakers were inside holding a joint session to certify President-elect Joe Biden's win in the 2020 election. The Capitol was evacuated and the standoff lasted hours until the National Guard was mobilized to clear and secure the building. Four people died as a result.
Honestly? There's not much that can be said that captures the sheer horror of the events of the last 24 hours. But the NAACP made note of Trump's utter hypocrisy, writing on Twitter, "And you thought "Taking A Knee" was too much!?!"
They're referring, of course, to Colin Kaepernick's 2016 protests against police brutality and racism, when he took a knee on the field instead of standing for the National Anthem. His quiet, peaceful protest drew ire from Republicans and, most vocally, Trump.
"Wouldn't you love to see one of these NFL owners, when somebody disrespects our flag, to say, 'Get that son of a bitch off the field right now. Out! He's fired. He's fired'," Trump said about the protests in 2017.
What did he say yesterday about his supporters staging a coup attempt that delayed certification of a free and fair presidential election?
"We love you. You're very special."
About Kaepernick's protest, Trump said, "I think it's a terrible thing, and you know, maybe he should find a country that works better for him. Let him try, it won't happen."
About yesterday's events, which made clear how fragile American democracy truly is after four years of Trump?
"These are the things and events that happen when a sacred landslide election victory is so unceremoniously & viciously stripped away from great patriots who have been badly & unfairly treated for so long. Go home with love & in peace. Remember this day forever!"
It's not news that Trump is a hypocrite. This situation escalated very slowly and predictably over the last five years since Trump launched his presidential bid. Is this where America will finally draw the line? Can we finally say that this is rock bottom, and enough is enough? There are 13 days left in Trump's term, and yesterday made pretty clear that our country won't survive 13 more days of that kind of siege. The only question that remains is whether those with the power to do so will finally put a stop to Trump.