The Internet Is Trolling This Bakery For Accidentally Making A Vagina Cake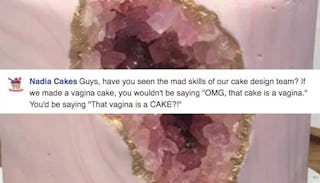 Image via Facebook/Nadia Cakes
And the bakery is trolling right back
A Minnesota bakery made a stunningly gorgeous cake. It was supposed to look like a fancy, pink, geode rock cake, and as they finished decorating it, the bakers were probably like, "ah yes, we did science on a cake." But the internet saw something else entirely.
Not going to mince words here. The internet saw a vagina.
Take a look for yourself and see if you agree that the "beautiful geode rock cake" created by Nadia Cakes in Maple Grove, MN is more, um, feminine body part than frosting.
I mean, it's a work of cake art. No one's denying that. Hell, sometimes bakeries make vagina cakes on purpose. But the baker in this case clearly intended for this to be a very science-y dessert. It's still science-y, but more biology than earth science.
It's a vag, OK? A very beautiful and immaculately sculpted vag made of rock candy in a sort of ombre fade going from pale pink to very dark pink in the center.
*Stage whispers* Just like a real vagina.
Naturally, the internet is having a field day with this inadvertent sugary lady garden. And because they're amazing and have an incredible sense of humor, Nadia Cakes is having fun with their womanly creation too.
Of course, someone had to go there with the "moist" question.
And the rest of the comments didn't disappoint either.
But honestly, the only people having more fun with this accidental pastry vag than Facebook users is Nadia Cakes themselves.
Their sassy replies to the fun trolling going on in the comments are dead-on.
The woman behind those sassy replies is Abby Jimenez, the social media voice of Nadia Cakes, and she tells Scary Mommy that her fun replies fit the bakery's "edgy" vibe. "We have snarky quotes on our shirts and on our delivery cars and I've always engaged with our customers on social media like I did with the geode cake," she says. "We're a cupcake shop so we never really take ourselves too seriously."
As far as the geode "vagina" cake going viral, Jimenez didn't see it at first. "I personally didn't see the gilded vageen in that cake until customers pointed it out. Their comments were cracking me up, so I was like 'alright, you guys wanna talk about vaginas? Let's do this.'"
Jimenez is actually a romance novelist and says it's easy for her to chat with customers this way. "I landed my literary agent with a query that had a dick joke in it, so that kind of banter came really naturally for me," she explains. The bakery's business is exploding as a result of the viral cake and her clever response, so everyone's having a blast with it. "I've never had more fun in my life," she tells us. "Our staff thinks this whole thing is hilarious."
I could literally read Jimenez' hilarious replies all day, but here's just one more"
*Slowly raises hand* I'm definitely in the pervert category. Sorry, rocks.