High School Volleyball Player Disqualified From Match For Wearing Hijab
by Julie Scagell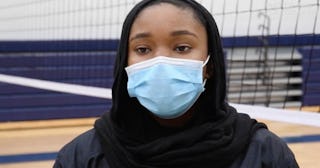 Tennessean
Aqeel was at an away game when the referee disqualified her
A ninth grader was disqualified from a volleyball game after a referee said her hijab violated rules set by the National Federation of State High School Associations (NFHS).
Najah Aqeel, a freshman at Valor Collegiate Academies, a public charter network based in Nashville, Tennessee, was about to play at an away game but was told at the start of the game by the referee that her hijab was a violation. "I was crying, not because I was hurt. I was crying because I was angry. I just thought it was unfair," Najah told HuffPost.
The association, who writes national rules for many high school sports, requires special permission to play if "hair devices made of soft material" are more than "three inches wide." It also states "bobby pins, flat clips and flat barrettes, unadorned and no longer than 2 inches, are also allowed," according to WZTV Nashville.
The American Muslim Advisory Council (AMAC) is calling for the rule to be overturned and said Aqeel had already played a game this season while wearing her hijab.
"Why should Muslim girls, who want to follow their constitutionally protected right, have an extra barrier to fully participate in sports in Tennessee?" asked AMAC Executive Director Sabina Mohyuddin. "This rule was used to humiliate a 14 year old student in front of her peers. It was traumatizing to say the least. We have Muslim girls across the state playing sports. Religious barriers to playing sports should not exist in this day and age. This rule is akin to telling Muslim girls that they need permission to be a Muslim."
"The rule book states that an exception may be granted if requested by the administration of the school to the state association," a statement from the Tennessee Secondary School Athletic Association (TSSAA) said. The request for Aqeel was made and granted, but it didn't come in enough time for her to play with her team in that match.
Aqeel's story is, unfortunately, not unique. In 2019, a 16-year-old high school student in Ohio ran her best cross-country race time of the season. At the finish line she was told that her time wouldn't be recorded because she'd been disqualified from the district match for wearing a hijab.
In 2018, Nike noticed a lack of activewear options for Muslim women, and made its own "Nike Pro Hijab" to address the lack of options. "Nike's mission is to bring inspiration and innovation to all athletes," Megan Saalfeld, Global Nike spokeswoman, told Arab News. "And we're thrilled that Nike can deliver a product innovation that female athletes in the region told us they wanted and needed."
"The NFHS strongly supports the Constitutional rights that our young people have to exercise freedom of religion and has no intent to interfere with those rights," Karissa Niehoff, executive director of the federation, told HuffPost in an email. "We will take a hard look at the language in our rules publications and continue to work with our state associations as they develop policies related to NFHS playing rules in their states."
This article was originally published on