'Father Of The Bride' Director Teases Possible Reunion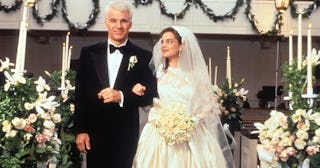 Touchstone/Getty
Nancy Meyers might hold the key to the only good news we've heard all year
In case you've been living under a rock, here's a little Film Director 101 for ya: Think about every single dreamy, fantasy movie home — particularly movie kitchens that would make Ina Garten weep — during the last couple of decades. Guess who's behind those? NANCY MEYERS. Remember the swoon-worthy Father of the Bride house? Yep, the gorgeous one with the ivy on that picturesque street. Well, get your smelling salts on deck because it looks like we're going back to the Banks family residence.
RELATED: The Best Gifts To Give The Father Of The Bride
The director of the 1991 film, Ms. Meyers herself, teased a reunion with the cast on her Instagram account, complete with a photo of the movie's poster featuring Steve Martin (who has already starred in a movie reunion this year) and Kimberly Williams-Paisley (George and Annie Banks for those IN THE KNOW).
"If he thought a wedding was a lot, how would he react to 2020?" Meyers wrote in the caption. "Coming soon to the phone in your hand!"
For those not "in the know," here's a quick recap of one of the most beloved movies of the 1990s:The film stars Martin as George Banks and Diane Keaton as his wife, Nina. Their (extremely young) daughter Annie returns home from studying abroad in college to announce her engagement to Bryan MacKenzie (George Newbern). George has one neurotic meltdown after another, Nina smoothes it all over, Martin Short swoops in as famous wedding planner Franck and delivers constant LOLs, and the wedding goes off without a hitch (mostly). But its endearing AF, sweet as pie, and just a total feel-good movie with lots of laughs.
While details of the reunion haven't been made clear (A Zoom read-through with the cast? A NEW MOVIE?), Meyers has been quick to confirm we all have a reason to be excited over on her Instagram page.
And yes, LOTS of people are excited about this (particularly our gal Ina):
LOVE the shoutouts from Ashley Williams Paisley and her sister in particular, how freaking adorable are they?
Earlier this summer, Meyers and the cast of The Parent Trap (the Lindsay Lohan version, obviously) reunited to talk about the movie and how it's aged, and what the characters would be up to in 2020. They also paid tribute to the lovely, talented, effervescent "Elizabeth James," Natasha Richardson, who died in 2009 after a skiing accident.
Here's hoping the Father of the Bride reunion happens soon — we could all use a little bit of the Banks family right about now.
This article was originally published on