Nancy Pelosi Is Introducing A Bill That Would Require Gun Background Checks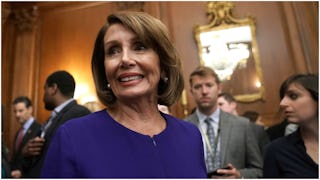 Image via Alex Wong/Getty
Nancy Pelosi's new bill will require universal background checks on gun sales
Nancy Pelosi is not wasting any time. Her first move as Speaker of the House is to introduce a bill that requires universal background checks on gun sales. The proposal will be introduced on Tuesday, the eighth anniversary of former Rep. Gabby Gifford's nearly fatal shooting.
Pelosi is joining forces with Rep. Mike Thompson, who leads the Democrat's task force on gun violence, to unveil this potentially groundbreaking bill.
"Since the shooting at Sandy Hook, the Gun Violence Prevention Task Force has been fighting for a chance to pass legislation that will help save lives," Thompson explained in a statement. "Finally, with our new majority that ran on helping to prevent gun violence, we will introduce a bipartisan, universal background checks bill. We will hold hearings, we will have a vote, and this legislation will finally pass the House."
The bill would make federal background checks mandatory on all gun sales, including private gun sales. There will be a few small exceptions written in, like exchanges between family members and the temporary use of weapons for hunting. This might seem like a no brainer but, according to Politico, about one-fifth of gun sales don't include background checks.
Given the staggering number of people who have died from gun violence recently – by November there had been 307 mass shootings in 2018 alone– Pelosi and Thompson's bill couldn't come at a more pressing time.
"In communities across America, courageous survivors, families and young advocates are showing outstanding courage and persistence in demanding an end to the horrific scourge of gun violence in our nation," Pelosi said in a statement. "It is an honor to join Congressman Mike Thompson and former Congresswoman Gabby Giffords to answer their call by taking the first step to pass commonsense background checks – which 97 percent of the American people support."
The bill will be named H.R. 8 in honor of Giffords, who was shot and severely wounded while speaking to constituents in 2011. Giffords said in a statement that she is "thrilled" that the United States House of Representatives "will no longer sit silent as our nation reels from the growing gun violence epidemic."
While the bill has a very solid chance of passing in the now Democrat-controlled House, it will likely be shut down in the Republican-controlled Senate. One step at a time.
This article was originally published on