NASA's First Ever All-Female Space Walk Is Happening This Month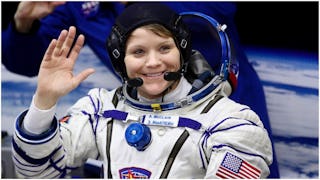 Image via Valery Sharifulin/Getty Images
NASA is launching the first all-female space walk this month
Here's some really, really cool news to get you through the rest of this week. The first ever all-female space walk is taking place on March 29, just in time for Women's History Month. Put on your helmets because this is about to be an incredibly exciting, empowering moment.
NASA astronauts Anne McClain and Christina Koch will carry out the space walk on March 29. They'll be supported on the ground by flight director Mary Lawrence and flight controllers Jackie Kagey and Kristen Facciol.
Facciol broke the big news on social media, tweeting out a giddy message about the upcoming mission. "I just found out that I'll be on console providing support for the FIRST ALL FEMALE SPACEWALK with @AstroAnnimal and @Astro_Christina and I can not contain my excitement!!!!" she wrote.
Facciol's tweet pulled in more than 2,000 likes and she quickly followed up to give credit to all the people involved in making this exciting expedition happen.
"I could never have imagined how many people would see this tweet, and I want to recognize that I'm part of a much larger team that's been prepping for this spacewalk for a long time," she wrote. "There is a whole whack of amazing people that made this happen, and I wish I could list them all!"
People were damn happy about this news and sent out a flurry of congratulations – including some very on-brand gifs and puns.
https://twitter.com/jetpack/status/1101723872485875712
Turns out, this spacewalk wasn't actually intended to be an all-female job. NASA spokeswoman Stephanie Schierholz noted that it just happened to work out this way.
"As currently scheduled, the March 29 spacewalk will be the first with only women," she told CNN in a statement. "It is the second in a series of three planned spacewalks…And, of course, assignments and schedules could always change. It was not orchestrated to be this way; these spacewalks were originally scheduled to take place in the fall."
Eh, whatever. We take what we can get and this is the happiest and most exciting of coincidences.
The good news doesn't stop there. More and more women are working at NASA these days, which might help even out the space station's unequal male-female ratio. McClain and Koch both graduated from NASA's 2013 class, which was made up of 50% women. Their class boasted the second largest number of applications NASA ever received from women (a whopping 6,100+).
I guess we all know what we're going to be doing on March 29. Grab the popcorn and prepare to feel all the very good, very inspiring feelings.