Natalia Bryant Pays Tribute To Dad Kobe On Her Graduation Cap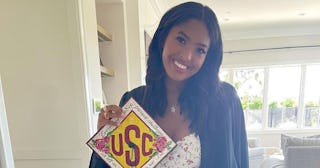 Vanessa Bryant/Instagram
The quote pays homage to something Natalia Bryant's dad, Kobe, taught her
At her high school graduation ceremony, Natalia Bryant paid tribute to her late father, Kobe Bryant, who was killed in a helicopter crash last January along with her sister, Gianna.
Natalia's cap included a quote from her dad that read: "Everything negative ― pressures, challenges ― is all an opportunity for me to rise." The cap was also adorned with the letters "USC," which is where the 18-year-old will be attending college in the fall.
"Daddy, Mommy, Gigi, Bianka and Capri are so proud of you," her mom, Vanessa Bryant, wrote on Instagram showing off the cap.
https://www.instagram.com/p/CPuC2KlDEwv/?utm_source=ig_embed&ig_rid=519c8b6f-4464-49c3-957f-6375c6fd9527
Bryant shared several other posts to celebrate the big day, including this adorable one of little sister, Bianka, holding up her big sis's face on a sign.
"Go Nani! Congratulations @nataliabryant!" Vanessa captioned the post.
https://www.instagram.com/p/CPuu2vTjrFs/?utm_source=ig_embed&ig_rid=e84a2501-cd98-40ce-86a5-fbd820b5af19
Last month, Natalia, and her little sisters, Bianka and Capri, joined their mom at a ceremony where their dad was posthumously inducted into the Basketball Hall of Fame. Vanessa accepted the honor on her husband's behalf, saying in part, "I used to always avoid praising my husband in public, because I felt like he got enough praise from his fans around the world and someone had to bring him back to reality.
"Right now, I'm sure he's laughing in heaven because I'm about to praise him in public for his accomplishments on one of the most public stages. I can see him now — arms folded with a huge grin saying, 'Isn't this some shit,'" Vanessa continued, as the crowd erupted in laughter.
https://www.instagram.com/p/CPuDFIHDdfr/
In addition to getting into her dream school, the University of Southern California, Natalia also signed a modeling contract earlier this year with IMG.
"I have always been interested in fashion since a very young age," IMG Models quoted Natalia as saying. "I have a love for the industry and ever since I can remember I wanted to model. There is a lot to learn but I feel this is a great opportunity for me to learn and express myself creatively."
https://www.instagram.com/p/CPuL5A2D_Um/
The cap was a touching way to honor her late father and make him feel like part of her big day.
Bryant has been open about the pain of losing her husband and daughter since the tragic accident last January.
"This pain is unimaginable," she told People. "You just have to get up and push forward. Lying in bed crying isn't going to change the fact that my family will never be the same again … But getting out of bed and pushing forward is going to make the day better for my girls and for me. So that's what I do."
Kobe's memory will live on in his daughters, who are clearly going on to do amazing things.