Trash And Damage Pile Up At National Parks Amid Government Shutdown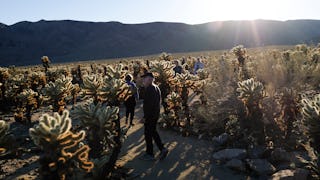 Image via Nick Kirkpatrick/The Washington Post via Getty Images
The damage being done to some of our most precious natural places could be significant and permanent
Many national parks around the country are facing chaos, filth, and damage in the wake of the partial government shutdown, ordered two weeks ago by President Donald Trump, as he fights Congress for $5 billion in funding for a wall between the United States and Mexico.
While past presidents have completely closed the parks during their federal shutdowns, Trump has only barred many park workers from working (and getting paid). Therefore, the gates to some of our country's most beautiful and precious natural landscapes have gone virtually unprotected in may places. While some emergency personnel remain, the gates are open, no one is collecting fees, and no one is manning areas that need protecting (and often, areas where humans need to be protected from the dangers of nature in spots where conditions are unsafe for visitors).
Several days into the shutdown, many parks are reporting widespread hazards and damage, from overflowing trash bins and pit vault toilets to blatant vandalism of park attractions. Conditions are also unsafe in some cases, such as trails that aren't being maintained or wildlife that is taking advantage of overflowing trash near campgrounds.
In most cases, hasty signs urging visitors to be safe are the only protection for both the park and the people in it.
In Joshua Tree National Park, reports are emerging of campers squabbling over camp sites (an issue usually resolved by park rangers), visitors stringing Christmas lights through the famous and fragile trees, and others off-roading with their vehicles over extremely rare landscapes that could be permanently damaged.
In Yosemite, wildlife is scattering overflowing bags of trash around the park, while visitors are allowing their dogs to run off-leash in areas thick with bears.
"You're looking at Yosemite Falls and in front of you is plastic bottles and trash bags," local resident Dakota Snider told ABC News. "It's so heartbreaking. There is more trash and human waste and disregard for the rules than I've seen in my four years living here."
Even on the National Mall, trash can were overflowing since the park rangers that care for the area are furloughed.
On the bright side, reports say that most visitors are being respectful – and a number of private and local businesses are stepping up to protect the park and help the visitors. In addition, volunteers have begun to help where they can.
Ethan Feltges, who operates the Coyote Corner gift shop outside Joshua Tree, has placed a portable toilet outside of his store, and is taking his time to help guests navigate the park. Private businesses outside of Yellowstone National Park are helping to keep trash cans empty and the roads safe.
Still, all of the effort that locals are putting into keeping the parks safe is not purely altruistic – many of these communities rely heavily on tourist activity for economic survival. When the parks close, or are chaotic, businesses and communities suffer greatly.
"If we are going to continue to use the federal government as a weapon for not getting what we want in the sandbox, then this is untenable for small business. We can't make decisions, we lay off employees, we take cancellations," Greg Henington, a small business owner outside of Big Bend National Park, told The Washington Post. He voted for Trump.
While Trump ordered the parks to stay open, many are restricting use or closing the doors on certain attractions citing actual health and safety reasons. Some campgrounds are closing, as are some historic or endangered sites that are threatened with vandalism or damage when left without employees to keep order. Still others are closing as state funding runs out on the limited services they're offering.
It's still unclear when the shutdown will end, as Trump just rejected the newest legislation on Tuesday, via a tweet.