Mom Gives Birth At Standing Rock: 'Having Babies Is My Act Of Resistance'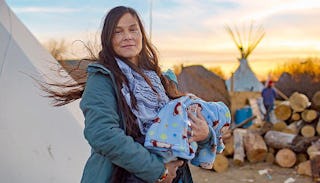 Image via Facebook
Mom gives birth amid protests at Standing Rock resistance camp
A Native American mom gave birth to her sixth child last month at the Standing Rock camp, where hundreds of protesters to the Dakota Access Pipeline have been living for several weeks. Her birth story is incredible, showing both the strength of this woman and the cause she and her people stand for.
The Dakota Access Pipeline, a $3.7 billion project that could cause serious damage to Native lands and water, has been in the news thanks to dedicated protesters who are doing all they can to halt its construction. From CNN, the controversy stems from the belief of native people that the pipeline will "destroy our burial sites, prayer sites and culturally significant artifacts," according to the Standing Rock Sioux tribe.
Protests have taken place in North Dakota for months to challenge the building of the pipeline, which would stretch from the oil-rich Bakken Formation, an underground deposit where Montana and North Dakota border Canada, into South Dakota, Iowa and Illinois. And while the battle continues, one mom prepared for the birth of a baby, her sixth, and ultimately, gave birth at the camp.
According to Indian Country Today, Zintkala Mahpiya Wi Blackowl, Sky Bird Woman gave birth to a baby girl at one of the "water protector" (what protesters prefer to be called) camps in her family's tipi on October 12th. She named her Mni Wiconi, which means, "water is life." A significant name considering what her tribe is fighting for.
Blackowl says, "I birthed her by myself," noting that it's in the Lacota tradition for a woman to give birth alone. Though her husband and family were sleeping nearby, she was by herself the moment Mni was born. "That space in which we give birth is so holy. At one time our people realized that."
Her other children, ages three, six, eight, eleven and thirteen, were all born at home with a mid-wife present. Mni's birth was the first where the mom was all alone. Though her husband, Lowicha, did wake almost right after Mni came into the world.
Blackowl says, "Having babies is my act of resistance; our reproductive rights as Native women have been taken away from us in so many ways. At one time, we were forcibly sterilized; assimilation has come down really hard on us." Blackowl's focus throughout the protest has remained on her kids and their education. She hasn't participated in the front-line demonstrations, but wanted her children to witness life at the camp and the ceremonies taking place.
Blackowl barely spoke of her pregnancy until the very end, citing cultural beliefs of "guarding" new babies. She consulted with her sisters, one a mid-wife and the other a doula, in preparing to give birth and administered her own prenatal care tracking the infant's heart rate with a fetal scope and even performing a blood screen during the pregnancy.
Though EMT's from her tribe encouraged her to give birth at a hospital, Blackowl steadfastly refused. "I'll birth where I choose. It's not for any man to tell me where I can have my baby." She did concede to keeping a walkie-talkie nearby in case she needed their help, but she turned it off. "In the end, though, they respected my wishes. I didn't need a bunch of people all on edge around me."
The mom feels strongly about home-birth with many suggesting she become a mid-wife herself, but she doesn't like the idea of midwifery as a paid position. "We need to restructure our notions that you have to pay to get this knowledge, this is knowledge that belongs to all women. Native women have become so disconnected from our bodies and our roles as a result of the mainstream colonial culture that is steeped in patriarchy and toxic male ego; we have a lot of healing work to do before we can teach our children how to be healthy."
And after hearing her thoughts on how fellow Native women should understand birth and their own bodies, it's only fitting that her baby was a girl. "I was so sure I was carrying a boy. Her being a girl, however, is of great significance."
According to Lakota tradition, Mni's placenta was buried at the camp after Blackowl gave birth.
The mom says, "She will know where she came from, that she came from very strong women who all stand behind her wherever she goes. I definitely felt those strong spirits near us when she was born."
This article was originally published on