Nurses Filmed Flipping Off Newborns And Making Them 'Dance'
by Maria Guido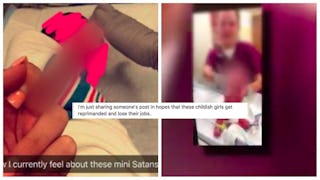 Image via Facebook/ Action News Jax video screengrab
Photos of hospital employees flipping off babies surface
People are outraged after photos of junior enlisted corpsmen at Naval Hospital Jacksonville surfaced online. The photos show the hospital employees flipping off babies — and making them "dance."
A Facebook user saw the photos on Snapchat, and shared them to her page. The post has since gone viral, with over 200,ooo people sharing it.
There were four publicly shared images on Facebook. In one, you see a woman flipping off a newborn, with the caption, "How I currently feel about these mini-Satans."
In another, a woman holds up a newborn — making it "dance."
The hospital got wind of the viral post, and responded on their Facebook page:
"We have identified the staff members involved," the statement reads. "They have been removed from patient care and they will be handled by the legal system and military justice. We've notified the patient's parents."
Action News Jax got a hold of a video of one of the workers making a newborn "dance" to music. It's infuriating, to say the least.
The hospital employees have been slammed on social media, and it's clear why. Can you imagine if these were pictures of your newborn? The complete carelessness in handling a newborn this way is unbelievable. So is the utter stupidity of posting something like this online. These women should never be allowed around children in a professional capacity, again.
Action News Jax obtained a statement from the hospital in full:
"We are aware of the inappropriate video and photos and can confirm they are hospital corpsmen, not nurses, but we are unable to confirm their names or tenure in light of the ongoing investigation. The individuals have been
removed from patient care, meaning they will not be providing direct patient care. We are also contacting patients to address any questions or concerns they may have. This type of behavior is incompatible with the Navy's core values of honor, courage and commitment, as well as medical ethics. It also does not reflect the commitment Navy Medicine has to provide the best care our nation can offer to those who serve as well as their families. An investigation is underway. Once the investigation is complete, appropriate actions will be taken."
*A previous version of the article referred to the hospital employees as "nurses" and has been corrected to reflect that they are "junior enlisted corpsmen."
This article was originally published on