Ne-Yo Says He Found 'A New, Comfortable Balance' With His Kids During The Pandemic
by Sa'iyda Shabazz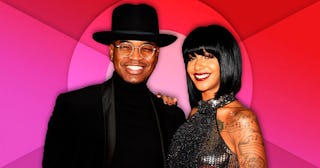 Scary Mommy and Rick Diamond/Getty
"I got to find a new comfortable balance," entertainer Ne-Yo explained when asked about the benefits the pandemic has had on him.
Like many of us, multi hyphenate entertainer Ne-Yo has been forced to slow way down during the pandemic. Used to spending much of his time on the road or in the recording studio, now he spends his mornings making cereal and taking his sons to school before doing Zoom interviews in the afternoons. He is still in the recording studio, but it's late night to early morning before he grabs a couple hours of sleep and does it all over again. Scary Mommy got to talk to him recently via Zoom about fatherhood, the pandemic, and his new collaboration with the brand Old Spice.
Ne-Yo and his wife Crystal announced in February that they were expecting their third child together, Ne-Yo's fifth child overall (he has two children, ages nine and ten, from a previous relationship). He jokingly mentioned his three-year-old's super strength and enthusiasm for hitting his big brother, who is five. Surely, after four kids, a parent has picked up a few things. So I was curious to know what's one thing he has learned that has stuck with him from one kid to the next.
"Patience, and how important patience is," he said. "I think a lot of times we forget that, or we think that kids know a little bit more than they actually do. And we get upset when they do things. Maybe this is the opportunity, as opposed to yelling, to teach." It's so easy to get caught up in the hustle of everyday life and forget that our kids are still just learning. And as easy as it is to yell, sometimes we do need to pause and talk. Of course, yelling a little is usually inevitable, and he agrees that sometimes you just gotta yell. That's parenthood for you.
Of course, that patience was extra needed this year given the fact that we've been with our kids more than ever. There are a lot of things that the pandemic has changed for parents, and celebrity parents aren't as different as we'd think. Although they have more help than your average parent, they're still dealing with the giant shift of having time away from their kids to suddenly constantly being around them. And for someone like Ne-Yo who spends so much time on the road, the change, while taking some adjusting to, was a good thing for him and his family.
"The pandemic has given me an opportunity to be more hands on with my parenting," he explained. "When the world was completely open, I was moving city to city doing shows, doing appearances, whatever the case may be. So a lot of my initial parenting, and a lot of my two older children's younger years were spent looking at Daddy on FaceTime."
"I didn't realize how much I missed little stuff like waking up and making cereal for the kids when they ask for it, be the first face they see when they wake up. And dropping them off and picking them up from school. So, the quarantine spoiled me a little bit — it had me realize that I can still do all of these things and work from home."
While we talked, he was preparing for his youngest son's third birthday party. Working from home enables him to switch from his entertainer hat to his dad hat with a little more ease, and it's obvious that being able to be there for his kids brings him a lot of joy. But he knows that things will change now that the world is opening up again and he will have to start traveling more frequently again. "I gotta find my new comfortable balance," he said.
"Initially, I kind of [adopted an] 'out of sight, out of mind' type of mentality," he said. "'I'll make time to talk to the kids via FaceTime and then get back into what I was doing.' And I let that be my complete focus. Because if I sit and focus too much about how much I miss my kids and how much I want to be home, I'm not going to be able to function. So I had to develop that. This quarantine forced me to throw that away."
As a father, and one who travels a lot for work, he wasn't around for a lot of the mundane parts of the everyday routine that his wife dealt with. But obviously the pandemic has really shifted that, and enlightened him to what it's like to be a more hands-on parent. "I have a whole new respect for my wife and what she does," he said quickly, adding that his respect levels for his older children's mother, in addition to his mother and sister, has increased dramatically. He also explained that there is more of a division of labor now that he's home. He gets up early in the morning with his sons and makes them cereal before taking them to school. "Once my workday is done, I can just turn the corner and my kids are right there," he added.
With three school aged children, Ne-Yo also realized how hard teachers work. "I have an entirely new respect for teachers and what they do. Daily, I'm like, 'people choose to do this all day.' Like this is a career choice. Somebody sat down and said, 'I want to deal with somebody's bad ass kids all day long as my job.' I feel like teachers don't get paid enough," he said. Amen to that!
But just because he's the school pick-up dad now doesn't mean that Ne-Yo isn't still working. He has recently wrapped filming the third season of the Starz series "Step Up: High Water." And he's been in the studio recording a new album that he anticipates releasing this fall. In addition to that, he also collaborated with the brand Old Spice to do a special Father's Day spot with his wife Crystal.
"I don't know if they knew already that I use Old Spice, but I definitely do," he said. "And I've been a fan for a little while now. So when they called me and asked if I wanted to be part of this Father's Day campaign, I jumped at it. It was an opportunity for, you know, me and my wife to do something together, something kind of cute and fun at the same time. So it was a win-win all the way across the board." He joked in our conversation that his wife steals his body wash and lotions all the time. "I've accepted the fact that in my house what's mine is hers, and what's hers is hers," he laughed.
Now that summer's here and things are opening up a bit, Ne-Yo is cautiously excited. "Cabin fever is a real thing, and my wife being pregnant and not really being able to move around a whole lot just compounds it," he admitted. Right now, much of his focus is on the excitement surrounding the impending arrival of his little girl, who he's affectionately calling "little mama." "My oldest is my princess and my youngest will be the princess, I got your three protectors in the middle. So it's good." And while he has a lot on the horizon, his biggest goal is to continue to find the balance in his life. And that's a good goal to have
This article was originally published on