Getting A Negative COVID Test Doesn't Mean You Can Do Whatever The Hell You Want
by Clint Edwards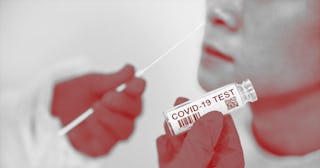 Scary Mommy and Tang Ming Tung/Getty
I get it: If I went to an event where everyone in the room took a COVID-19 test, and all of them came up negative, I would probably say to myself, "We're good. We can take off our masks, shake hands, and pretend like this COVID thing isn't an issue." And in a lot of ways, it might feel that way. Like in this little tested bubble, there is no need to fear, because COVID-19 isn't in the room. We have the negative tests to prove it, right?
Well, after what happened recently at the White House, that assumption was proved very wrong. At least 11 people who attended the unveiling of President Donald Trump's nominee to the Supreme Court on the 26th of September tested positive for the virus, including the president himself. Although, as CNN points out, "many attendees were tested before being allowed in" to the event, there was very little masking and pretty much no social distancing at the event. And according to the BBC, Dr Fauci is now referring to it as a "superspreader event."
So what went wrong? According to the experts, the problem is in the logic I described above. You cannot rely only on testing. Daniel Green, an assistant professor of pathology and cell biology at Columbia University told NPR that "[T]he takeaway is clear: Testing alone is not a sufficient strategy to prevent spread of the virus. A negative test does not give free license to forgo all other safety measures."
Testing is a great tool to help prevent the spread of COVID-19. It can help pinpoint who has the virus. It can help epidemiologists track the virus, and understand how and where it is spreading. But it is just one part of a comprehensive strategy that works best when used in conjunction with other safety measures.
Jennifer Nuzzo, a senior scholar at the Johns Hopkins Bloomberg School of Public Health Center for Health Security, had this to say during an NPR interview: "No test is 100% accurate, and for this reason someone who tests negative is not guaranteed to be free of infection. That means, even when people are regularly tested, it important to use multiple approaches to reduce the likelihood of transmission. Maintaining distance from others, wearing a mask and choosing to stay in well-ventilated spaces are all important safety measures that must also be used."
One of the biggest flaws in the test-only strategy is the very common use of rapid tests, which are the most likely to be inaccurate. And it's not just the White House that is experiencing issues with rapid tests. We are seeing it in sports, too.
This past week there was an outbreak among athletes at Baylor University. According to ESPN, Baylor athletic director Mack Rhoades reported 28 active cases of COVID-19 among its football players and 14 active cases among football staff members, which led to the decision to postpone its scheduled game against Oklahoma State. The likely reason for the outbreak? You guessed it: A false negative test.
Rhoades said he believes the outbreak is linked to the Bears' October 3rd road trip to West Virginia. "We feel pretty confident that we had a false negative; that somebody was on the plane that was really infectious, carrying the disease at some point in time."
Ultimately, what this all boils down to is that if you are in a room where everyone has been tested, that's awesome. Good for you. That should give you an increased sense of security. But it doesn't mean that all other safety measures like mask wearing and social distancing can be cast aside. Even with all those safety measures in place, it is still possible to get COVID-19. Completely eliminating the risk of contracting COVID-19 altogether just isn't on the table yet — unless you're in complete quarantine, that is — and probably won't be until there is an effective vaccine.
One of the best analogies I've read on this reality comes from Michael Mina, an infectious disease expert at the Harvard T.H. Chan School of Public Health: "It's illogical to conclude that frequent, rapid tests can't help control the virus. That's akin to looking at a car accident where someone died and say, 'Look, see, airbags, seat belts and reinforced doors can't protect people during accidents.' Obviously that's ridiculous. Unfortunately, what the White House has done in this pandemic is akin to them saying, 'We now have airbags so let's throw away seatbelts and get rid of reinforced doors.'"
The goal is not 100% elimination of COVID-19 transmission. The goal here is to lower the rate of infection to a point that we can function as a society without hundreds of thousands of people contracting COVID-19 and losing their lives. It's going to take all of us working together, and using all the safety tools available — which includes making sure we don't get over-confident, even when it comes to a negative test result.
Information about COVID-19 is rapidly changing, and Scary Mommy is committed to providing the most recent data in our coverage. With news being updated so frequently, some of the information in this story may have changed after publication. For this reason, we are encouraging readers to use online resources from local public health departments, the Centers for Disease Control, and the World Health Organization to remain as informed as possible.
This article was originally published on