Neil Patrick Harris Instagram-Gushes Over David Burtka For Their 15th Anniversary
by Julie Scagell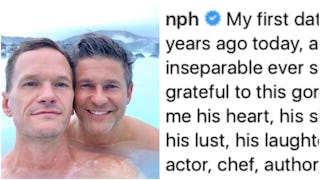 Image via Instagram/Neil Patrick Harris
Neil Patrick Harris and David Burtka pen sweet Instagram messages in honor of their first time meeting
As far as couple goals go, Neil Patrick Harris and his husband, David Burtka, are at the top of the list. They are head over heels in love, hilarious (and have totally on-point group Halloween costumes every single year), and have two of the cutest kids around. It wasn't surprising that for their 15th anniversary of meeting each other, Harris professed his love for his partner with just the right amount of endearment and wit.
"My first date with David was 15 years ago today, and we've been nearly inseparable ever since," the actor, writer, and producer wrote on Instagram next to a gorgeous pic of the couple. "I'm so, so grateful to this gorgeous man for giving me his heart, his shoulder, his strength, his lust, his laughter, his joy."
"He's an actor, chef, author, singer, producer, and the most wonderful, selfless parent I've ever seen," Harris continued. "A sextuple threat, if you will. And I most certainly will. Happy 15th Anniversary, @dbelicious. You keep making all my dreams come true."
The pair had dinner at Manhatta, a restaurant with gorgeous views of lower Manhattan, according to People. "It's our 15th anniversary and I got surprised by this guy," Harris said on his Instagram Story the same day. Burtka also posted an adorable photo of the two from 15 years ago and today.
"15 years ago Neil Patrick Harris and I met on the street. From that day he has made my world a better place. Thank you @nph for the best years of my life," he wrote. "I can't believe how fast 15 years have gone. Happy Anniversary! I can't wait to keep on laughing, playing and loving for years to come."
They're just ridiculously sweet together.
Fans fell in love with Harris during his Doogie Houser days and he cemented a place in our hearts when he played Barney Stinson How I Met Your Mother. Burtka is an actor, writer, and professional chef who swept Harris off his feet and they've never looked back since. The pair tied the knot in September 2014 in Italy and have adorable eight-year-old fraternal twins, Harper Grace and Gideon Scott.
Harris and Burtka famously nail the Halloween game every year, going as everything from Peter Pan and Captain Hook, Dorothy and The Cowardly Lion, and Alice in Wonderland. There is too much cuteness for words with this family.
This circus-themed attire from 2017 may just take the cake though.
Seriously, can these two please send out love messages to each other once a month? Promise we won't ever, ever tire of them.
This article was originally published on