Why We Continue To Celebrate The Birthday Of The Son We Lost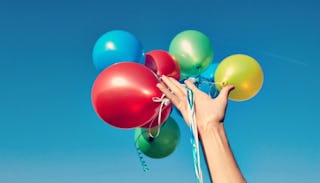 Simon Bradfield / iStock
The balloons. Simply put, it is all about the balloons on September 8. With each passing year, we try to choose a theme that is age-appropriate for our son. Our two other children, Julia and Owen, decided on SpongeBob. We have continued the tradition of the balloon release. As the kids are getting older, they are more excited to participate. They love watching them soar into the sky. Each year, we have been fortunate enough to be greeted with a beautiful sunset. In fact, the only piece missing is the boy that we love and miss every day. Liam would have been 7 this year. Liam was our firstborn son, and he died at only 9 days old.
It wasn't supposed to be this way. On January 1, 2008, I received a positive pregnancy test. My husband Brian and I were elated. Our first child was on its way. It was a beautiful time.
My intuition told me that the baby would be a boy. I scoured the internet for the perfect boy nursery. I obsessed over names. We were blessed. I was feeling great with no morning sickness. Everything was moving along perfectly. I was not even remotely prepared for what would happen next.
They call it the anatomy scan. It is typically given around 20 weeks to get a good look at the baby's organs. Oftentimes, the gender is revealed as well. The sonogram technician was acting suspicious from the beginning.
"Your baby likes to hide" she said.
Minutes later, the doctor walked in. She looked baffled as she squinted at the screen.
"Is there something wrong?" I asked.
"I am afraid so," she sighed. "I think there is something wrong with your baby's heart."
The doctor immediately referred us to a pediatric cardiologist who confirmed the very unfortunate news. Our baby had a congenital heart defect called hypoplastic left heart syndrome (HLHS). The left ventricle was severely underdeveloped. With this news, our world completely crumbled. However, I was right about one thing. We would be having a boy, and he was so loved already.
In spite of the diagnosis, we decided to proceed with the pregnancy. We saw high-risk doctors. We were terrified. We prayed. We just wanted him to be OK.
On the afternoon of September 8, 2008, Liam Jude entered our world and our hearts. He was perfect. I never loved another being so much. I was also never so scared in my life.
In cases of HLHS, doctors generally recommend a series of three open heart surgeries. Liam would be undergoing his first surgery at only a few days old.
It was heart-wrenching to see him that way. After the surgery, I was filled with guilt and pain. I would have done anything to take it all away from him.
In spite of all that Liam had gone through, they said he was doing well and recovering nicely. We would be taking him home in a few days. On the evening of September 16, 2008, I finally got to give him a bottle. It was a special moment. We went home that night, both worried and hopeful.
No parent ever expects that call. We hadn't even been home for that long. On the other end of the phone, the doctor told me that Liam had a "blue" episode and that we needed to come back to the hospital immediately. He wasn't "doing well" she told me. I just knew.
On entering the NICU, Brian and I were handed our precious baby boy. He was lifeless. I carried him to another room, something I hadn't a chance to do before. He was free of all the tubes. He would never have to suffer again. He was at peace. My family soon arrived, as did our pediatric cardiologist. I just held him. I don't remember that much after that. After a few hours, a nurse came and said she had to take him. I didn't understand why. I wanted to yell at her, and tell her no. I couldn't believe this was happening.
In the weeks and months that followed, I hated everyone. I resented the fact that life had gone on for everyone else around us. I couldn't bear to attend any events, especially those with children present. I quit my job. I didn't want to go on.
A friend suggested Brian and I attend a neonatal loss support group. It was our savior. These people were the only ones who truly understood our pain. Some had gone on to have other children. Others found special ways to remember their children.
A year later, we would be doing just that. We invited family and friends to Liam's grave. Brian and I read him a letter. We released doves. We had a cake for him. He was missed more than words could describe. We were still devastated, but also overjoyed. Brian and I were expecting our second child, a girl, the following month. We had a lot to tell her about her big brother.
Little sister Julia turned 6 this past year and has started to ask questions. Brian and I try to be as honest with her as possible. She knows that Liam had a sick heart and went to heaven. She also knows that her own heart works perfectly fine, as does her little brother's. She often says that she misses him and wishes that he didn't have to die. It breaks my heart. As little brother Owen turned 3 years old this year, I will be having the same conversations with him soon enough.
For the past few years, we have chosen a spot in our neighborhood by the water. This year, both Julia and younger brother Owen wanted to release the balloons. It ended up being a group effort.
"Happy Birthday, Liam," we always say with both smiles and tears. We can't change anything. We can't go back in time and give him the healthy heart he so deserved. I think about all the memories and milestones that we missed out on. It is a tragic reality that will never be understood. However, for nine days we were blessed with this truly amazing boy. We were blessed to know him, not just today, but every day. In our hearts, he will stay forever.
This article was originally published on