Nesting? Here Are 5 Must-Haves for Your Family's Car
by Team Scary Mommy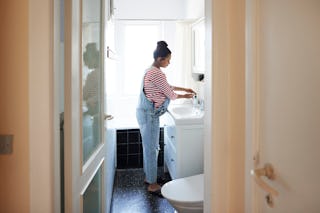 Congrats! You've reached the homestretch. You're about to become a parent for the first time. As the big day approaches, do you find yourself doing any of the following?
Organizing, reorganizing and re-reorganizing every single thing on your home?
Decluttering and/or buying everything?
Browsing recipes and cookbooks obsessively?
What you're doing is called "nesting" and lots of mamas experience it. Pregnancy is already a sometimes thrilling, sometimes terrifying roller coaster ride. But when you feel that sudden spike in energy, accompanied by a strong urge to put things in order, you're fully nesting. And it's usually a sign that your little one is just about ready for their big debut.
Before they come home to that super organized nest you're creating, their first nest is your car. You've probably got the car seat properly installed and looking comfy. But mama? You're going to need a lot more than that before you go on your thrill ride to the hospital. Here are some absolute must-haves to get your mobile nest ready for the road.
1. Mobile Changing Station
Although it's unlikely you're going to need to pull over for a diaper change on the ride back from the hospital, this is an absolute essential. Because there are few things worse than realizing your baby has had a major blowout and the only available changing station is in a public bathroom. Hard NO. At some point in time – usually the least convenient time – you'll need a safe and clean way to change a diaper away from home. Do yourself a favor and pack a mobile changing station in your car before Mom Brain takes hold.
2. Sunshades
Another absolute necessity is a way to keep your baby shaded from the sun. Sun shining right in your baby's face isn't just uncomfortable (read: likely to cause screaming), it's also unsafe. You'll want to make sure your rear windows are fitted with shades before you leave for the hospital. The All-New 2021 Rogue is already a pretty versatile and well-designed family compact SUV. But the SL comes with available rear window sunshades to keep the sun and heat off your sleeping baby. (The All-New 2021 Rogue also has available easy-to-clean floor and available cargo mats – which you may not care about at first but which you will care about very, very much just a few months later.)
3. Seatbelt Cutter/Window Breaker Tool
This may not seem like a "must have" because the chances you'll ever need to use it are a fraction of a fraction of a percent. But the overwhelming need to keep your family safe can sometimes cause new parents to think through every possible scenario. And the peace of mind that comes from knowing you're prepared for just about anything is worth taking up a little space in your glove box.
4. Emergency Diaper Bag
No doubt you already have a perfectly-stocked and organized diaper bag at the ready. That's great. But one day, sooner or later, you will walk out of the house without that perfectly-stocked and organized diaper bag. Save yourself from a meltdown (yours, not the baby's) by packing a mini-version and stowing it in your car. A few extra diapers and wipes, extra blankies, and things like hand sanitizer and trash bags. As your kid – or kids – gets older, update your supplies with age-appropriate supplies like snacks and teething toys.
5. Towels
Just trust us on this. Pack a few extra towels. Why? Because crazy things happen with babies. And there will be a moment where the thought "Oh! I have some towels!" will provide great comfort – and possibly laughter.
When you become a parent, you see the world in a whole new way. Your priorities shift right along with that you pack in your car. But no matter what you need to bring on board, you'll want a safe and comfortable family vehicle. The All-New 2021 Rogue is exceedingly comfortable, forgiving of bumpy or bad roads, and the ride is always quiet – perfect for a "first nest."
Learn more about how Nissan just gets it at Nissanusa.com.
This article was originally published on