KitKat Drumsticks Are A Thing And You Need Them Immediately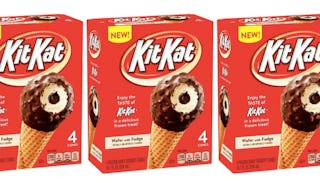 Image via Kroger
KitKat Drumsticks are the delightfully decadent treat to get us through the rest of winter
If you're one of those people who thinks ice cream treats are more of a summer thing, you'll want to just move along. This is for those of us who would eat an ice cream cone in below-zero temps, sitting in an igloo, with icicles forming on our eyelashes. That's because these KitKat Drumsticks you can find in the grocery store literally know no season.
That's right. KitKat bars. Inside of ice cream. All of our dreams are coming true and sometimes we can have nice things.
Behold. A confectionary masterpiece.
Drooling yet? If not, hang tight. We've got some very delicious information.
According to Instagram account SnackGator, the cone's chocolate shell has KitKat wafer pieces "embedded into it." Embedded. KitKat pieces.
While we say all the "break me off a piece of THAT" lines we can think of, let's just take a second to truly appreciate what this is. A creamy, cold, wonderful vanilla ice cream cone with a fudge center and embedded chunks of KitKat in the chocolate shell. If you had any illusions of continuing your New Year, New Me healthy eating kick, we're here to shatter them. Sorry.
But not really.
Each box includes only four cones, so you'll want to buy (checks notes) at least 17 of them. For you. Maybe you'll be all benevolent for the rest of your family and get some for them too. They've been spotted at Kroger but no word on any other grocery chains carrying these gems.
2019 may be terrible in a number of ways, but as far as outstanding snack foods, we're doing amazing, sweetie.
Like these ridiculous Lay's Fried Pickles with Ranch chips.
And this super sweet Peeps Cereal that you'll buy for your kids and secretly eat all by yourself.
Who can forgot the real MVP of our year in snacks so far? Most Stuf Oreos are literally the best thing to happen to us since the ball dropped. That's simply not up for debate.
https://www.instagram.com/p/BsrNeoWg3ll/?utm_source=ig_embed
We can even give novelty snack foods as Valentine gifts.
The government is a literal dumpster fire and things are pretty tough out there, but at least the snack food gods continue to shine upon us. Happy KitKat cone hunting. We deserve this.