Netflix Releases Their 2021 Holiday Lineup And Shut Up, It's Never Too Early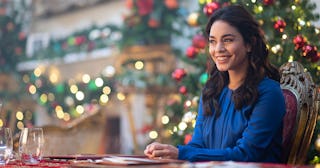 Mark Mainz/Netflix
Netflix unveils its "Here for the Holidays 2021" lineup
We haven't even purchased Halloween candy yet and Netflix has already unveiled their entire Holiday lineup, and honestly, bring it on! This year we've got: the Princess Switch 3 (Vanessa Hudgens plays three roles this time!), Single All The Way (a gay rom-com!), and a Mariah Carey holiday special (!!!), just to name a few. So put these release dates on your calendar already, because the Netflix holiday season begins on November 1, 2021.
From movies to series to shows for the entire family, here is Netflix's Here for the Holidays 2021 schedule.
November 1:
The Elf on The Shelf Presents: An Elf's Story
The Claus Family
"When his grandfather suddenly falls ill, holiday-hating Jules learns of his family's magical legacy and realizes he's the only hope to save Christmas."
Elf Pets: Santa's St. Bernards Save Christmas
My Dad's Christmas Date
November 5:
Love Hard
Nina Dobrev stars as a hopeless romantic but eternally single LA journalist who gets catfished and flies to New York in an attempt to meet her dream man.
November 7:
Father Christmas Is Back
"Four feuding sisters get a crash course in family togetherness when their long-lost father shows up for Christmas at their posh ancestral manor."
November 14:
Mariah Carey's All I Want For Christmas Is You
November 15:
Snowbound for Christmas
November 17:
Christmas Flow
In this series, "an unlikely Christmas romance blossoms between a famous rapper and a tenacious journalist."
November 18:
The Princess Switch 3
There's triple the Hudgens in the third installment of the popular movie series: "When a priceless relic is stolen, Queen Margaret (Vanessa Hudgens) and Princess Stacy (Vanessa Hudgens) enlist the help of Margaret's audacious look-alike cousin Fiona (Vanessa Hudgens) who teams with a dashing, mysterious man from her past to retrieve it… rekindling the sparks of a tantalizing Christmas romance and resulting in a very unexpected switch."
November 19:
Blown Away: Christmas
November 23:
Waffles + Mochi's Holiday Feast
November 24:
A Boy Called Christmas
Robin Robin
A stop-motion holiday musical special for kids and families.
November 26:
A Castle for Christmas
Brooke Shields stars as a famed author who "travels to Scotland hoping to buy a small castle of her own, but the prickly owner, Duke Myles (Cary Elwes), is reluctant to sell to a foreigner." Love, naturally, ensues.
School of Chocolate
November 28:
Elves
A family moves to a remote island that is inhabited by actual elves.
November 30:
Charlie's Colorforms City: Snowy Stories
December 2:
Single All the Way
A rom-com about a guy who enlists his best guy friend to play his "date" so his family won't think he's single at Christmas.
December 3:
The Greatest British Baking Show: Holidays: Season 4
Shaun the Sheep: The Flight Before Christmas
December 6:
David and the Elves
December 14:
StarBeam: Beaming in the New Year
December 16:
A California Christmas: City Lights
"It's been a year since Callie and Joseph fell in love, and they're happier than ever running their dairy farm and winery, until business and family obligations call him back to the city — and threaten to derail their romance."
December 22:
Grumpy Christmas
December 24:
1000 Miles from Christmas
December TBA:
A Naija Christmas
How To Ruin Christmas: Season 2
The holidays are upon us. Bookmark this page.