Netflix Christmas Movies Give Us The Joy We Deserve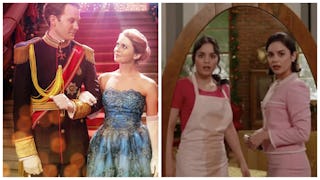 Image via IMDB
These are the cheesy-but-amazing Netflix Christmas movies you'll be watching tonight
They're fun, they're terribly cheesy, and they're often made on a visibly tight budget — Netflix Christmas movies are basically a right of passage of the Yuletide season. Because they often feature a central romance, these movies don't get the shine they deserve.
Which is total bullshit.
Romantic movies and books are primarily consumed by women. Because of this, they're often dismissed as "silly." God forbid we let women find joy in anything, right? Especially in stories that center around women achieving fulfilling careers and enjoying good sex!
Netflix Christmas movies (and Hallmark, respectively) are great because they prove stories don't need to focus solely on suffering and angst to get people to watch them. Art can still be art without relentless misery (or a rendezvous with a fish — that one's for you, Oscar voters).
Sometimes we just want to watch two attractive people wearing varying shades of red and green have a meet-cute, clumsily fall in love, and overcome a very mundane, simple conflict and end up happily ever after. Just let us have this joy, will you? God knows in 2018, we should all take every crumb of happiness however we can get it.
If you're looking for a break for your brain (and one from real life in general), Netflix's Christmas lineup is amazing.
A Christmas Prince: Royal Wedding
A Christmas Prince was a hit for Netflix last year, so obviously we all needed a follow-up this year. Journalist Amber and Prince Richard overcome obstacles and clashes in lifestyle and zany hijinks resulting in an almost laughably bad story that you will absolutely watch and love anyway.
The Christmas Inheritance
Ah, this one features everyone's favorite romantic trope: big city gal (and heiress, hence the "inheritance" thing) who embarks on a journey to a small town. Of course it's full of Christmas charm and a handsome local innkeeper, and yes — there is a snowstorm that leaves her stranded.
The Holiday Calendar
Another new Netflix romance called The Holiday Calendar features Kat Graham, a hot guy (obviously), and William from This Is Us, which, come on, that alone sells it. Add in a magical advent calendar and a tale of childhood friends who become something more, and you're in it to win it for nearly two hours of pure Christmas joy.
The Princess Switch
Oh hi, Vanessa Hudgens! In this Netflix original, Hudgens plays a baker and a soon-to-be princess in a Parent Trap-style movie that features trading places and, of course, swoon-worthy love. Again — so bad it's good, and you will love it, so just pop some popcorn and let yourself cringe and enjoy.
The Spirit of Christmas
Okay, so this one isn't technically made by Netflix, but it's definitely in their Christmas lineup and [extremely Stefan from SNL voice] it has everything: a single woman trapped in a picturesque, snowy inn, a sexy, emo ghost who died a century ago but sports a very "2016 Fuckboi" haircut, and — duh — romance. A must-watch.
The Christmas Wedding Planner
A wedding planner is about to enjoy her big break in planning her cousin's huge, lavish holiday wedding. Cut to a ruggedly handsome private investigator who was hired by a "secret source" to dismantle the wedding and an enemies-to-lovers plot, and you're in it to win it with this one.
Now go forth and make plans with some popcorn and your couch for tonight — no need to feel any shame about your Netflix romance-loving game.
This article was originally published on