The 'Operation Varsity Blues' Trailer Just Dropped & It Looks Dramatic AF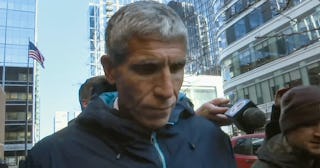 Netflix
Want to know what really went on behind the scenes of the college admissions scandal? This Netflix documentary is taking a deep dive
If there's anything we've learned since quarantine began, it's that Netflix is the newly crowned king of true crime documentaries. Remember your Tiger King phase? Don't worry — we all had a Tiger King phase. Now, there's a new documentary that's getting all sorts of buzz because its first trailer just dropped: Operation Varsity Blues: The College Admissions Scandal. One major reason we can't wait to stream this one? It's from the same people who brought us the bizarrely fascinating Tiger King, and the equally bonkers Fyre: The Greatest Party That Never Happened.
Before we discuss, take a moment to just watch this trailer and revel in the scandalous rich people shit that Netflix is about to gift us all.
Uh huh. How bananas does that look?
As much as we'd love to see Aunt Becky Goes To Prison become a real movie that we can watch, this doesn't appear to focus so heavily on the specific celebrities involved in the college admissions scandal. Instead, it follows Rick Singer, the man who masterminded it by building a career out of finding ways for rich families to buy spots for their kids at prestigious schools.
"Using an innovative combination of interviews and narrative recreations of the FBI's wiretapped conversations between Singer and his clients, Operation Varsity Blues offers a rare glimpse into the enigmatic figure behind a scheme that exposed the lengths wealthy families would go to for admission into elite colleges, and angered a nation already grappling with the effects of widespread inequality," reads a press release.
As Singer explains to a "client" in the trailer, "I've done 761 what I would call 'side doors.' The front door means getting in on your own. I've created this kind of side door because my families want a guarantee." He later adds, "I'm going to do over 730 of these side doors this year. It's the home run of home runs."
What's really cool about this documentary is that as the press release notes, it uses reenactments of the real FBI wire tap tapes between Singer and his clients that were used to build the investigation that indicted him and more than 50 rich families. This documentary will show us, word-for-actual-word, what happened behind the scenes of the college admissions scandal.
That also means we get to hear these rich people's concerns about how they were breaking a bunch of laws. One asks, "Is there any risk that this thing blows up in my face?" Big LOL, in hindsight. Another asks, "If somebody were to catch this, what happens?" Schadenfreude is real, my friends.
One line might well sum up the entire college admissions scandal (and maybe this entire documentary): "They had every advantage, and yet, they still cheated."
Operation Varsity Blues: The College Admissions Scandal drops on Netflix on March 17.