Netflix Drops 'Death To 2020' Trailer, A Mockumentary About This Trainwreck Year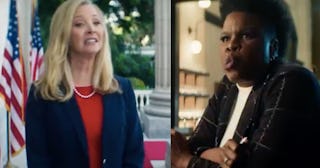 Netflix
The streaming service announced a send-off for the year of neverending WTFs
As the year draws to an end, a bit of retrospection is in order. 2020 has brought the following terms into the news cycle: coronavirus pandemic, COVID relief, comorbidity, election disinformation, remote telecommute, the importance of social distancing, distance learning, and Dr. Fauci.
To paraphrase Zora Neale Hurston, some years ask questions and some years answer them and history will decide if 2020 was the year that asked or answered. What is known about a year that has felt like a neverending episode of Punkd, it's appropriate for Netflix to team up with Charlie Brooker and Annabel Jones — the creators of Black Mirror — to create a fitting send-of to this year of WTFs. The project, appropriately titled Death to 2020, is a "mockumentary" that parodies the most WTF moments of the 2020 in the style of a super serious news-doc and stars Lisa Kudrow, Samuel L. Jackson, Hugh Grant, Leslie Jones, and Kumail Nanjiani, to name a few, with Laurence Fishburne narrating.
According to The Hollywood Reporter, Samuel L. Jackson will play a reporter; Hugh Grant, a history professor with an apparent affinity for pop culture; Kumail Nanjiani, CEO of a tech company; Lisa Kudrow, a "non-official" conservative spokesperson; Diane Morgan, an average citizen; Leslie Jones, a behavioral therapist; Cristin Milioti, a soccer mom; and Joe Keery, a gig economy millennial.
All of the characters appear in the trailer, which promises "unprecedented" access to experts, political wonks, and everyday people to make "the definitive story of the most historic year in history." Jones' character summarizes 2020 best when she says: "I'd say it was a trainwreck and a shitshow, but that would be unfair to trains and shit."
The Hollywood Reporter notes that Brooker (who created the dystopian sci-fi series Black Mirror for Netflix, so he's very good at making darker subject matter — like 2020 — entertaining), felt the style and seriousness of the film made it a perfect fit for the streaming service.
"Death to 2020 features fictional characters discussing real events in a bombastic mockumentary, but quite a bit sillier than that makes it sound. It felt like an apt format for Netflix, which is known for high-end documentaries, but also like a good opportunity to create a different kind of comedy special that deals with the year head-on while also showcasing some brilliant performers," says Brooker. "I don't love the word 'satire' but there's some of that here, alongside some angry jokes, and some goofy jokes."
Amazon has a similar year-end show planned as well, titled Yearly Departed, that one features a bunch of female comics roasting the hellhole that was 2020. Death to 2020 will premiere on Netflix on December 27 just in time to say "see you never" to this insane year.