Netflix Just Released Their Christmas Movie Lineup Cuz They Know We Need It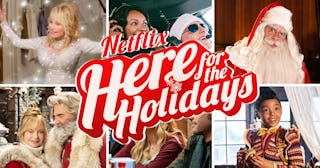 Netflix
Hark! Netflix has announced its full holiday lineup, and it looks very merry indeed
At this point in the year (and especially 2020), it's only natural to wish we could fast-forward straight to Christmas. Sadly, that's not possible. However, Netflix just gave us all the next best thing — the complete roster of this year's Christmas movies, TV shows, and specials coming this holiday season. The real gift? The streaming giant will be releasing 28 festive new titles. Yes, we said 28. Finally, a reason to rejoice!
TBH, everything on the list looks pretty great. Break out the stockings! Put up the tree! Hang the garland! We all deserve to do Christmas early this year, and Netflix knows it. They're giving us all the cozy content we need for lazy days and nights spent sipping hot cocoas (or something a little harder) while wearing our favorite cheesy Christmas PJs.
How could we not feel infinitely merrier knowing Dolly Parton is going to play an actual angel — because, hello, she is — in Christmas on the Square?
Another standout in the lineup is Holidate, starring soon-to-be-first-time-mama Emma Roberts.
It's got all the makings of an irresistible Christmas rom-com: Sloane (Roberts) and Jackson (Luke Bracey) are two strangers who both hate the holidays. But when they happen to bump into each other one particularly terrible Christmas, they make a pact to be each other's "holidate" for every festive occasion. You can see where this is going, right? Swoon.
We're also pretty pumped to again see Vanessa Hudgens slip once more into the role of Lady Margaret for The Princess Switch: Switched Again. The sequel will drop on Nov. 19, with Netflix having already committed to a third in this adorable franchise.
And, honestly, have you seen how visually stunning Jingle Jangle: A Christmas Journey looks? Hitting Netflix on Nov. 13, it tells the story of legendary toymaker Jeronicus Jangle (the always amazing Forest Whitaker) whose most prized creation gets stolen by his trusted apprentice (another fave, Keegan-Michael Key).
Basically, we'll be blissfully distracted with holiday goodness right up to Christmas. Here's the full list, in case you want to copy it over to your calendar:
Holidate (Oct. 28)
Überweihnachten (coming in November) Operation Christmas Drop (Nov. 5) Dash & Lily (Nov. 10) Jingle Jangle: A Christmas Story (Nov. 13) Holiday Home Makeover with Mr. Christmas (Nov. 18) The Princess Switch: Switched Again (Nov. 19) Alien Xmas (Nov. 20) Dolly Parton's Christmas on the Square (Nov. 22) Dragons: Rescue Riders: Huttsgalor Holiday (Nov. 24) The Christmas Chronicles: Part Two (Nov. 25) A Go! Go! Cory Carson Christmas (Nov. 27) Dance Dreams: Hot Chocolate Nutcracker (Nov. 27) Sugar Rush Christmas: Season 2 (Nov. 27) Wonderoos: Holiday Holiday! (Nov. 29) Home for Christmas: Season 2 (coming in December) How to Ruin Christmas: The Wedding (coming in December) Angela's Christmas Wish (Dec. 1) The Holiday Movies That Made Us (Dec. 1) Chico Bon Bon and the Very Berry Holiday (Dec. 3) Tudo Bem No Natal Que Vem (Dec. 3) Captain Underpants Mega Blissmas (Dec. 4) The Great British Baking Show: Holidays: Season 3 (Dec. 4) Mighty Express: A Mighty Christmas (Dec. 5) Ashley Garcia: Genius in Love: Christmas (Dec. 9) A Trash Truck Christmas (Dec. 11)