Let's Get Spooky With These Binge-Worthy Horrors On Netflix
by Caila Smith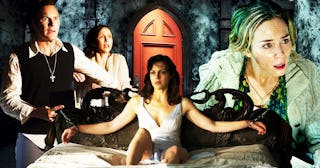 Scary Mommy, Paramount Pictures, New Line Cinema and Netflix
We're in the thick of spooky-season, folks. And nothing says "let's get scared" like putting the kids to bed, zoning out to the thrill of a horror film, and then screaming bloody murder as you catch a glimpse of your child out of the corner of your eye, glaring at you like one of the twins off of The Shining.
Happy Halloween, parents!
If you're looking for something eerie that forces you sleep with the lights on for a night or two, have no fear (or a hell of a lot of it), these binge-worthy movies and shows on Netflix are here to satisfy your itch to be spooked.
A Quiet Place
Following a post-apocalyptic war, this growing, New York family of four are forced to hide from ultra-hearing, blind creatures in the silence. With John Krasinksi starring as the father, and Emily Blunt as a pregnant mother, it's no wonder the film has a 95% rating on Rotten Tomatoes.
It's best to put your seasonal hot beverage off to the side for this one… you'd hate to jump, spill it, and risk making a noise.
Malevolent
A young brother and sister team make their living from scamming others through fake paranormal encounters. But when an elderly woman repeatedly calls "The Sayers Medium Services" in hopes that they can cast out unwanted spirits, these siblings are left dealing with more than they imagined in this mansion with a history.
We Have Always Lived In The Castle
From the same author that brought us The Haunting Of Hill House, Netflix breathed this Shirley Jackson horror novel into life. We Have Always Lived in the Castle features two seemingly-ordinary sisters who, after persistence, welcome a charming gentleman claiming to be their cousin into their lonesome mansion… and cue the dark and twisty plot taking off.
Gerald's Game
Based off of a best-selling Steven King novel, Netflix's Gerald's Game follows a wife (Carla Gugino) and husband on their meant-to-be couple's getaway. From the beginning, it doesn't take long to discover the husband, played by Bruce Greenwood, is a bit of an asshole by the way he binds his wife (WITHOUT CONSENT) during foreplay. But while she's bound, he has a heart attack and collapses. Leaving the wife to encounter, what appears to be, maleficent forces conspiring against her.
The Conjuring
Let's just say, you better hope your floorboards don't suddenly squeak, or your child's toy randomly starts singing while you're watching this one. Based on a chilling true story, Warner Brothers' The Conjuring follows a family of seven who seek out the help of two demonologists (Vera Farmiga and Patrick Wilson) after moving into a demon-possessed house. With a similar flow to Amityville Horror, the inhuman spirits prey off those in the household, proclaiming no soul shall prosper in good health on this land of the wicked.
Black Summer
If you're looking for a show to keep you on your toes, this Netflix series about a zombie apocalypse has you covered. With Hart of Dixie's Lemon Breeland (Jaime King) acting as a polar-opposite from that of her "Southern Belle" role, Black Summer makes its audience think and (occasionally) let out a scream or two until the very end of the show.
The Haunting Of Hill House
Despite growing up and out of Hill house following their mother's death, played by the lovely Carla Gugino, we witness the surviving members of the Crain family revisiting their past, paranormal trauma well into their adult years. Between the spooks and scares in every episode, to the "aha" moments in the later ones, Netflix's limited-series The Haunting Of Hill House has removed the "cheesy" stigma surrounding haunting-based shows and turned it into something terribly thought-provoking and riveting. Even better, it's getting a prequel!
Insidious
The first in a three-, soon to be four-part series, Insidious follows a mother (Rose Byrne), father (Patrick Wilson), and their three little ones as they attempt to drive out the demons that have possessed their son, who is stuck in a medically-inexplicable comatose state. Although some believe the alternate reality aspect of this movie to be too much, one thing is certain… Insidious has ruined the sound of a child's clapping forever and ever.
One conclusion we can draw from *nearly* all of these movies and shows on Netflix? Never, ever, ever dismiss a mother's instinct when she suggests, "I think we need to move."
This article was originally published on