Netflix Says 30M People Have Watched Their New Jennifer Aniston Movie Since Sunday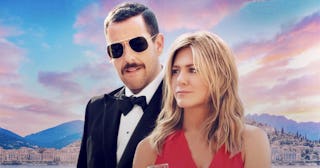 Netflix
'Murder Mystery,' starring Jennifer Aniston and Adam Sandler, has had the biggest opening weekend on Netflix ever
Netflix rarely shares its streaming data (except when it's good news) but they made an exception yesterday when they alerted the world that their new original comedy Murder Mystery had tallied over 30 million views during its opening weekend.
The streaming giant announced the numbers on its comedy-themed official Twitter account yesterday, adding that the film netted over 13 million views in the U.S. and Canada, and over 17 million outside of North America.
The movie, which stars real-life buddies Adam Sandler and Jennifer Anniston, is a comedic spoof of murder mysteries, and the first film where Sandler and Anniston have paired up since the less-successful 2011 rom-com Just Go With It. The plot follows a couple taking a long-awaited European vacation gone awry — the couple is lured onto a billionaire's boat before suddenly becoming suspects in his murder, along with a wacky collection of guests, of course.
The numbers that the movie has tallied are extremely impressive – as film historian Peter Labuza tweeted, if the movie had been released in a theater, it would be the third-biggest release of the year, behind the Marvel movies. It would have also collected $120 million domestically alone. For a comparison, Labuza added, 19.3 million people watched the final episode of Game of Thrones.
Of course, it wasn't released in the theaters, it was free for subscribers and available to stream at home. That means that people may have just turned it on to fold clothes to, or to check out after seeing Aniston's name Also, Netflix counts a movie as "viewed" as long as someone watched 70 percent of the movie.
Also, many of the views came from across the globe, where Aniston and Sandler are very popular in some regions. The movie had subtitles added in languages like Spanish, German, and French.
We're also taking Netflix's word on it, since they're the only ones who know their streaming numbers. Some fans reacted to the news by urging the entertainment company to release all of their numbers, especially of shows that have been canceled against fan protests.
Netflix has taken to creating more original films after joining the Motion Picture Association of America, and for the last several years has been trying to get an Oscar win for best movie, with dramas like Roma. This flick probably won't be up for an Academy Award, but that doesn't mean it isn't fun or entertaining.
And let's remember that popular doesn't mean good. The movie's getting mediocre reviews from critics, who say that it's "Just entertaining enough to make you wish it was actually good," and "passable." In other words, it's better than some of the other stuff that Aniston and Sandler have been in, but not nearly as good as some of their other efforts.
But maybe it doesn't have to be great to be enjoyable and entertaining. There are Netflix movies that are great for popcorn and your rapt attention, and then there are Netflix movies that are fun to watch in the background while you're also doing twelve other things. With 30 million views, and our love for Aniston and Sandler's chemistry, we might check it out the next time we have to do bills.
This article was originally published on