Netflix Gives Santa An Origin Story With 'Klaus'
by Cassandra Stone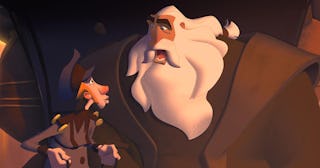 Disney
The Christmas season is officially upon us with the premiere of Netflix's 'Klaus'
The very first animated film from Netflix is available to stream as of today — and it's a good one. The story aims to explore the origin of Christmas through the eyes of a young man named Jesper and a man named "Klaus."
Jesper, a troubled postal worker who's assigned to Smeerensburg, a dangerous and dismal town on an island in the Arctic Circle, wants to save his job. In order to do that, he has to figure out a way to bring some cheer to the unhappy locals.
The townspeople rarely talk and never exchange letters, so Jesper feels like he's at a loss. That is, until he finds an ally in local teacher Alva, and discovers Klaus, a mysterious carpenter who lives alone in a cabin full of handmade toys.
These unlikely friendships return laughter to Smeerensburg, forging a new legacy of generous neighbors, magical lore and stockings hung by the chimney with care.
The animated holiday comedy stars Jason Schwartzman, Rashida Jones, Joan Cusack, Will Sasso, Norm Macdonald, J.K. Simmons and it's directed by Despicable Me co-creator Sergio Pablos.
Netflix has really been killing the Christmas movie game with their original movies recently. Last year's Christmas Chronicles starring Kurt Russell was an instant family hit. It centers on a brother and sister who lost their father. They sneak onto Santa's sleigh, which winds up crashing in downtown Chicago. The characters spend the rest of the movie, more or less, trying to get out of Chicago to save the holiday. Christmas plus Kurt Russell — what's not to love?
And sometimes, we moms just want to watch two attractive people wearing varying shades of red and green have a meet-cute, clumsily fall in love, and overcome a very mundane, simple conflict and end up happily ever after.
If that sounds like something you're after this time of year, Netflix has about a zillion options for you. This author highly recommends The Princess Switch starring Vanessa Hudgens, who is an entirely underrated and underutilized actress as this movie proves; and also Christmas in the Wild starring none other than Rob Lowe and Kristin Davis and a bunch of adorable African elephants.
Another noteworthy part of Klaus is that it's hand-drawn animation — something we don't often see in animated movies anymore. Director Pablos lauds the "old-school" technique for this particular film. "We did it hand-drawn… because that's who we are," Pablos tells Business Insider. "We love to draw. We drew digitally on tablets but we still drew and we painted."
Klaus is officially available to stream today, so gather the whole family 'round the TV and enjoy this endearing holiday film.