People Are Binge-Watching Netflix Instead Of Having Sex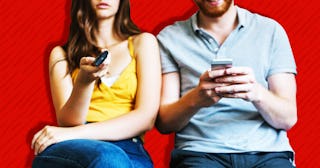 Westend61 / Getty and Scary Mommy
Turns out most of us want to actually #NetflixandSleep
Lots of adults are too busy with work, kids, driving those kids to activities, keeping up a semi-clean home, laundry, etc. to have time to think about much else. When we do have time to relax, binge-watching our favorite series of the moment on Netflix is likely all we have the energy for. And while we'd like to incorporate sex with our significant other into that equation, apparently not many of us are doing so, according to a recent report.
Netflix has always been synonymous with the viral hashtag #NetflixandChill, which is basically, "I'm asking you to watch Netflix but I really want you to come over so we can have sex." But a new report shows people may be watching Netflix and, well, watching more Netflix.
According to The Wall Street Journal, some experts feel the streaming video service has so many binge-worthy shows that it's becoming the new birth control for many couples. Fertility rates in the U.S. have hit an all-time low according to the National Center for Health Statistics. In fact, as of 2017, rates dropped below what's needed for the population to replace itself. But can TV really be to blame?
A 2017 paper in "Archives of Sexual Behavior," the official publication of the International Academy of Sex Research, offered up streaming services as one possible factor for a decline in sexual frequency among adults. "If you're watching something streaming, the next episode is immediately available, and there are no commercials where you could look over and say, 'Honey, you look cute tonight,'" the study's lead author, Dr. Jean Twenge, said.
And real couples are backing up Twenge's claim. "There's always a new episode of 'Schitt's Creek,'" Ashley Aranda tells The Wall Street Journal. "We get so comfortable with the blankets, and you got a glass of wine going, and one of us usually ends up falling asleep." Aranda and her husband are currently trying to conceive their third child, but sometimes, even the urge to procreate comes second to the joy of binge-watching. The mom estimates that 25 percent of the time, the couple chooses Netflix over attempts at baby-making. Which, relatable.
Of course, there are many factors to consider when talking about declining birth rates and desire for sex, but the on-demand nature of today's world and a plethora of options to be plugged in at all times makes it much easier to be lazy about our sex lives. One in four people admit to turning down sex in favor of binge-watching their favorite series, a survey conducted by SurveyMonkey reported. Among those aged 18 to 38, a whopping 36 percent said they'd rather watch TV.
So, what does Netflix say about all this? According to the company, their American subscribers stream an average of just two hours a day per household. "We take pride in being part of the cultural zeitgeist, but getting credit for a decades-long decline in sex is beyond even our programming abilities," a Netflix spokesperson said. No one said we're all watching 12 hours of TV a day, but if those two hours used to be spent rolling around in the sheets with your partner, therein lies the problem.
Listen, at the end of the day, if you and your partner want to cozy up after the kids are in bed and watch the same Game of Thrones episode you've already seen three times, no one should feel guilty for doing so. Some days that's just as sexy as sexy time.
This article was originally published on