Netflix's 'Maid' Is A Love Letter To Struggling Moms, Everywhere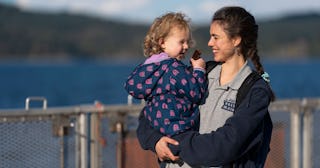 RICARDO HUBBS/NETFLIX
Ahead of Netflix's new series 'Maid,' author Stephanie Land talks poverty, trauma, and seeing her book being made into a TV series
Three years ago, Stephanie Land published her first book, Maid, a memoir about what it was like for her to fall into poverty — and then what it was like to claw her way out again. The story follows her through an abusive relationship, single motherhood, homelessness, and minimum wage jobs; specifically, cleaning the homes of the comfortably rich while she struggled just to survive.
The book was a ringing success — it landed on the best seller list, President Barack Obama put it on his summer reading list, and, most importantly, it got the country talking more about the living wage, women's work, and the big holes America has in its safety nets. And now a new Netflix limited series is premiering, which will bring Land's story to the big screen as well as to an even bigger audience.
What does it feel like to go from barely getting by to seeing your story portrayed in a Netflix production? And what does it feel like to get your voice heard after feeling silenced and invisible for years? Scary Mommy talked to Land about what her strange journey has been like, and she says that it has been surreal — as well as a mix of wonderful and triggering.
She got to watch the first two episodes ahead of the show's release—and she chose to watch it snuggled up in bed on a laptop with her older child, Story, who's featured in the show. While it was such a huge moment in the story of her success, it was also hard to watch.
"It's difficult," she said. "It's traumatizing and triggering. They captured what it's like to live in a situation when you're being abused emotionally. Like the scene where Nick Robinson's character Sean is leaning over you and yelling is pretty similar to what happened."
A later screening of the first episode, with a few family and friends, as well as with those involved in creating the show, was an easier watch.
"Last night was really awesome," Land said. "We all had some take out sushi and ramen and it's the first time I had watched it with my entire family. Everyone cheered and applauded, when I introduced the screening. It was fantastic. It was a good moment."
"My seven-year-old said, 'Mom, your face was on TV!'"
But whether the show is a trigger for old trauma in one moment, or whether it's a symbol of her success and how far she's come, Land is most hopeful that the show has a larger impact.
"I hope poor people find some validation and I hope they feel seen if they're able to read the book or watch the series," she said. "I wrote the book because I didn't feel seen in any media. My story just wasn't represented in an authentic way, so I wanted it to be there so people like me didn't feel alone."
But she doesn't just hope that it brings comfort to those who might be facing poverty or homelessness.
"I hope people with means — people who are not struggling — learn a lot. About how it feels to work for minimum wage, and how government systems feed into these issues. And I hope that they take that knowledge into the voting booth, to elect people who want to be empathetic to the houseless population especially, and who want to make change."
Today, Land is working on a new book called Class, which is about the barriers that low income people experience in achieving a degree in higher education. She's also continuing to tour the country talking about Maid and her experiences and trying to share her story with as many people as possible.
"It's not in my nature to talk about myself and to people in general," she said. "I'm much more of a recluse. It's hard to be in the public eye. But I see the good in it. I like to advocate and to open doors for other people to have the same platform."
Maid is now a 10-episode limited series on Netflix starring Margaret Qualley, Nick Robinson, and Andy MacDowell. It premieres Oct 1.
This article was originally published on