Parenting On NYE Sucks, So Your BFF Netflix Has Your Back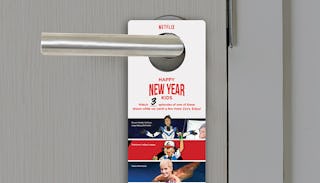 Image via Netflix
Party it up on New Year's, parents — Netflix is here to help you
If you have kids, the word "party" takes on a whole new meaning, as whatever reveling you partake in will almost certainly come back to bite you in your hungover ass the next day. That's why for New Year's Eve, Netflix is doing all they can to ensure you celebrate the night kid-free and spend the next day recovering in relative peace.
This weekend, Netflix has you covered twofold; on New Year's Eve, a special slate of programming will trick your kids into thinking the midnight countdown is happening at any hour you choose. You'll be drunk with power (and then later, drunk for real!) Then, your friends at the 'Flix can occupy them the whole next day while you try not to die on the couch from five too many liquid refreshments the night before.
And it's not just any countdown — you can pick a show your kid loves the most to have them tick off the minutes til "midnight" from this these options:
Word Party
Puffin Rock
Luna Petunia
Beat Bugs
All Hail King Julien
Skylanders Academy
Trollhunters
Project Mc2
Fuller House
Chasing Cameron
So, if you want your child in bed by 7 pm this Saturday? Allow King Julien to pull a fast one, convincing your spawn the big moment has come and gone, long before it actually happens. Absolutely genius.
The next day, when you're padding around the house with the duvet over your shoulders wondering if your brain is actually oozing out of your ears, the kids will hopefully be down with one of these excellent shows to binge-watch until you feel human again:
Ask the StoryBots
Best Friends Whenever
Dragons: Race to the Edge
Ever After High
LEGO Friends: The Power of Friendship
Mako Mermaids
My Babysitter's a Vampire
Pokemon: Indigo League
Project Mc2
Skylanders Academy
The Adventures of Puss in Boots
The Batman
The Deep
Trollhunters
Voltron: Legendary Defender
According to Netflix, those 15 shows are the ones kids are most likely to watch back-to-back. Read: without pestering you every 20 minutes to help them find something new or make them a snack or anything else that requires you to open your eyes and let the sunlight stab you in your fragile, hungover brain.
As if all of this wasn't enough, Netflix is doing you a final solid by providing this informative printable door hanger to leave on the knob of your bedroom door in order to (hopefully) buy you a little extra sleep before confronting life as a hungover parent.
Happy New Year, and good luck, this weekend!
This article was originally published on