This New Netflix Cleaning Show Will Make You Want To Throw Your Whole House Away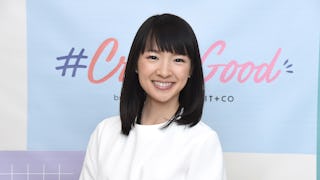 Image via Getty/Gary Gershoff
We're just here for the internet reactions to this new Netflix show, TBH
Perhaps you've heard of the bestselling book, The Life-Changing Magic of Tidying Up? If so, and you've read it and applied the wisdom of the author, Marie Kondo, to your home and your life — congratulations.
If you'd rather skip the book and head straight for the new Netflix series that helps people clean their cluttered-ass houses, you're not alone. Keep reading.
Related: Say So Long, Farewell To Clutter With These Easy Organizing Hacks And Tips
Full disclosure: if you're looking to take part in the schadenfreude of an Extreme Mess situation, you're better served by shows like Hoarders. While there is no shortage of clutter on Tidying Up With Marie Kondo on Netflix, you're not going to see any cat corpses or human excrement piling up in any corners here.
Which is why this show is extremely watchable and relatable to the masses. There's something for everyone who classifies themselves as "organization-challenged" on this show: couples with small kids, empty-nesters, curmudgeonly Boomers, and even the heartbreaking experience of a recent widow who has to clean out her husband's belongings. (Reader, I cried. Hard.)
Kondo's whole theory centers around finding joy in the things you keep in your home, and making sure all those joyful things have a proper, functional place to reside. It's instant anxiety relief. It's also an instant trigger to wanting to make your own home Kondo Klean, as the internet has realized.
The reactions to Netflix's latest show are hilarious and relatable AF:
When organizing clothes (my own personal Achilles' heel), Kondo has every single person go through every single item and only keep clothes that give them joy. After sloughing through everything you own on a massive pile on your bed.
Finding…the…joy. Must….find…the…joy.
LOL.
Perhaps the most soothing part of each show is watching Kondo fold clothes. It's like Xanax for the eyes.
There's not a parent alive who can watch this show and not immediately want to start Kondo-ing all the kids' Christmas toys.
Don't mess with Mama's spark of joy, y'all. DON'T. DO. IT.
It was extremely genius and insanely brutal of Netflix to make all eight episodes of Tidying Up available on New Year's Day, when we're all sitting in the post-holiday ruins of our houses. Instead of feeling defeated, let's find our joy and start small — by cleaning out a junk drawer or learning how to fold our laundry into adorable little envelopes.
If that doesn't work, we can always just throw the whole house away.
This article was originally published on