Netflix Announces That 'YOU' Season 2 Will Be Here In December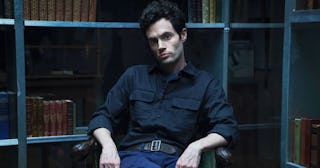 Netflix
Season 2 of Netflix's creepy stalker drama YOU will drop the day after Christmas so, uh, happy holidays?
It's been a minute, but Penn Badgley's disturbing stalker-boy is finally headed back to Netflix for another season. The creepy drama will see Joe, Badgley's ultimate Lonely Boy, in an intriguing new position — according to the streaming service's official description, the stalker has now become the stalkee. And, what's more, he'll no longer have New York City to aid and abet in his illicit activities.
Netflix dropped the news via the show's official Instagram account, sharing a poster of Badgley's Joe caught between his potential new romance, Love (Victoria Pedretti), and his long-lost ex-girlfriend, Candace (Ambyr Childers). "Joe's back, but where?" the social channel captioned the poster, adding, "YOU S2 December 26." So, mark your calendars, kiddos. Joe and his vast menagerie of psychotic tendencies is headed your way soon.
As the caption implies, the book-loving stalker has moved, and as the season synopsis tells us, it wasn't exactly by choice. Yet, he won't be alone. The poster clues us into Love and Candace playing central roles in the new season. And in a video also shared on the show's socials, several other characters can be seen, some more familiar than others.
Explains the YOU season 2 synopsis, "When we last saw Joe (Penn Badgley), his heart was tragically broken and his past just caught up with him in the form of long-lost ex-girlfriend Candace — a woman now hell-bent on teaching him a lesson. Season 2 finds him on the run from Candace — leaving New York City for his own personal hell: Los Angeles. He's fresh out of an intense relationship that ended in murder."
So, Joe's on the run but, c'mon, like that's going to stop him from finding and fixating on a new love interest… not to mention maybe masturbating in some stray bushes from time to time? In season 2, the object of his obsession just so happens to be named Love. Despite the chance he might once again discover it isn't true love like he thought he had with Beck, Joe is "just crazy enough to risk finding out."
Interestingly, Love doesn't sound anything like Beck, whose need to be liked by her bougie friends and followed on social media never sat well with Joe. In January, YOU showrunner Sara Gamble described Love to Entertainment Weekly, saying, "Like her name, she's very warm and there is a carefree aspect to her spirit that really comes from the fact that she has constructed a life for herself that's about being in the moment and doing what she loves every day."
Unlike Beck, Love is "extremely disinterested" in having any sort of social media presence. Per Gamble, she embodies the best of L.A. — a city that through-and-through New Yorker Joe is very reticent to warm up to. But Love might change Joe's initial opinion. "She's a Los Angeles native. She has really absorbed the best of the city and she's really artistic with the way she lives her life," said Gamble.
Just don't expect for YOU's holiday release date to bring about a joyful Joe. We'll have to see it to believe it, but Gamble insists the bookstore-based stalker isn't out in L.A. looking for love. "He's truly heartbroken by what has happened," she revealed, "and so what Love offers is a different kind of friendship and a different kind of relationship."
This article was originally published on