I Watched Netflix's 'The Stranger' And I'll Never Be The Same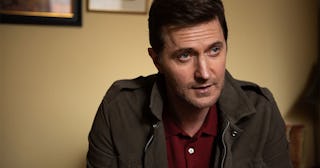 Courtesy of Netflix
My boyfriend and I do what a lot of what other couples do — we love having a good series going on Netflix. He'd watched the trailer for The Stranger, a British Thriller series on Netflix based on the Harlan Coben novel written by Danny Brocklehurst, at least four times before I agreed to watch it.
I get disturbed by television shows and movies very easily (I'm a rom-com lover and I make no apologies for it), but I agreed because it did look interesting. Besides, I knew if it got to be too strange, I could fall asleep and he could carry on. But I was addicted after the first episode. I should also add we've watched so many shows together that I've lost count, and this has been — by far — my favorite.
What pulled me in was the beautiful scenery. Yes, I'm talking about the leading man, Adam Price (come to mama) who is played by Richard Armitage, as well as the lush landscapes. The scenes were filmed across Manchester, and I have now added visiting those rolling hills and stony, grassy landscapes to my bucket list. And yes, I've added Richard to my hall pass list too. (I knew you were wondering.)
Anyway, back to the show. Without giving too much away, I have to admit we started this series at promptly 4:30pm on a Friday evening and devoured all eight episodes. We only took a short break to go out and get food. There was no time to dine in at a restaurant. We had to eat and watch — it was that captivating.
After midnight, we were tapping each other awake. Our bodies and minds were shutting down, but we were determined to see how the this show would end.
Literally at the end of each episode, there was a cliffhanger so big I had butterflies and needed answers.
The premise of the show is this: a beautiful stranger, played by Hannah John-Kamen, walks up to one of the characters throughout the show and tells them a huge nugget about their past, or something that is going on at the present moment. And they have no idea it's happening.
The nuggets are all whoppers and involve something that someone close to them has done consciously, behind their back, while the two of them have gone on to live happily ever after because the other person is unaware.
As these secrets surfaced during each episode, you soon realized that all the characters were intertwined with each other.
The show was excellent, but the reason I fell in love with it was because of what it made me think about. It left me reeling and in deep thought about all the secrets that go on under our noses every day we may know nothing about. And the question I kept coming back to is this: Are some things better left unsaid? Are we better off not knowing things people have done that could deeply affect us? Especially if it's been years since it's happened and we've been living happily without knowing?
I realize the show isn't a true story, but they do touch on real subjects we've all been subject to — lies, stealing, affairs, revenge. You know, all the juicy stuff that keeps us awake at night.
Anyway, my point is, it was a damn good thriller and didn't haunt my dreams. I've never been so engrossed in a show, and I highly recommend watching it with someone close to you and then talking about how you both feel about leaving some things unsaid. It certainly makes for some great conversation.
This article was originally published on