Dole Whips Come In Three New Flavors, BRB Packing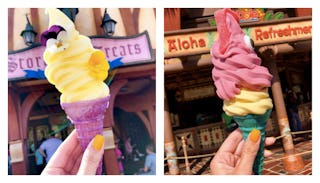 Image via Disney Food Blog
Three new Dole Whip flavors? Time for a trip to the Magic Kingdom
If you're heading to the Magic Kingdom any time soon, please understand that you're in for a treat — actually, make that three treats. That's right — there are now three new Dole Whip flavors, all takes on the park's extremely popular non-dairy frozen dessert.
Up, Moana, and Tangled fans — get ready to lose it.
Our friends at Disney Food Blog are the bearers of this completely delicious news, and hang on to your Mouse Ears, because this is a lot to take in at once.
First up is the Hei Hei cone. Based on the Moana character of the same name, the pineapple and raspberry flavors pack a very colorful punch — all topped off by Hei Hei's famous "comb" made of a sour candy strip.
The entire delightfully refreshing dessert is piled into a blue cone and is, very appropriately, available only at Aloha Isle Refreshments.
Next up is The Lost Princess cone. It's inspired by Tangled (my forever favorite, come at me, Frozen fans) and features lemon Dole Whip, a gorgeous purple cone, and edible flowers to decorate it. I'm literally minutes from booking a flight and the snow outside my house isn't helping matters.
The Rapunzel-inspired yumminess can be located at Storybook Treats in the Magic Kingdom.
Last up (but definitely not least) is the Up-themed Adventure Is Out There cone. It's arguably the most elaborate and visually-striking of the trio of new treats with a cascade of milk chocolate pearls (obviously meant as a nod to the balloon) all held together by white chocolate. It comes in a ridiculously beautiful teal-colored cone and the Whip is mango-flavored. Drool.
The goodie can be found at Auntie Gravity's Galactic Goodies in Magic Kingdom's Tomorrowland.
This isn't the first time that Dole Whip has rolled out an exciting update to its time-tested formula. Last year brought us the hard-to-find rum-spiked Dole Whip. Of course, this one was for adults only, but us parents certainly deserve it after a long, hot day in the Magic Kingdom with our overly-excited little ones.
It's almost too pretty to eat, but truly just almost, because boozy Dole Whip.
Even if you're not a huge Disney fan (and honestly, why) there's no denying the appeal of these adorable cones. Anything to make standing in line for rides slightly more refreshing.
This article was originally published on