17 Baby Gear Items You Probably Didn't Know You Need (But You Totally Do)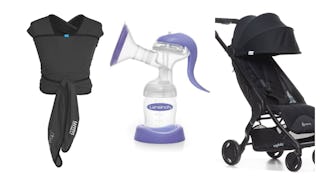 Amazon
So, you are going to have a baby soon? Or know someone who is? Me too! I'm gearing up to have my 4th kid, and here's some items I've come to love during my baby-making journey.
Of course there are other things that take priority–hello diapers, wipes, seasonally appropriate clothing, a safe sleeping area, etc., but if we are looking to add to our arsenal, make our lives a bit easier, or snag a unique gift for our fave pregnant person, you can't go wrong with these. Swear.
The lansinoh is the perfect manual pump to throw in your bag and take with you while traveling or to work. It's lightweight and easy to use. I've actually had to pull my car over and do an emergency release from engorgement, and this saved me.
I'm not always a fan because some wraps can be overwhelming or feel like a real contraption, but not this one. Breathable, lightweight fabric (perfect for Spring and Summer) that is easy to use and comfortable to wear? Win-win. Bring on the baby-wearing.
Whether you are going on vacation, the park, or away for the weekend, a travel crib like this one is always a good idea. For sleep, for play, for a safe space so you can get 3 minutes to pee alone, you gotta have one of these. My fave? The Lotus travel crib. That zipper allows you get baby in and out without leaning over AND you can load it up and carry it like a backpack. Added bonus: a bassinet conversion kit is available and it's completely non-toxic. I'll take two.
It's the perfect thing to bring to the beach, big sister or brother's game, or even the backyard. For sleep, play, or a shaded place to relax, I will pretty much be taking this everywhere.
The Ergo stroller is basically as awesome as the Ergo carrier. My biggest complaint about strollers is how heavy they are to lift in/out of the car, and how bulky they are when folded up. This eliminates both of those issues–it's so light, it folds up so compact, and it glides like a dream. Plus, there is legit, accessible storage underneath. This thing is a winner!
A portable rocker? Yes, please. I love this the Rocker Mama. You can seriously sit in your comfy bed and rock your sweet babe, or it can save your butt (and back) when you're out and about because it's easy to throw in the car.
This wonderful invention, know as the TushBaby, is the item you probably didn't know you needed. But, you do. It's a USA safety-certified hip carrier, which means you can carry your infant (who can sit up and maintain head control) and toddler on your hip without needing to go to the chiropractor immediately after. Easy to use, and it has a phone/money/keys pocket, so you can ditch your purse. Heck yeah.
We love this 5-in-1 seat that will accommodate the needs of your growing child. You can literally use this dream boat of a seat from 5-120 pounds (0-10 years), as it transitions from a rear-facing infant to a high-back, belt positioning booster. It's not cheap, but it's worth it.
This carrier allows for front and back wear and is safe for your baby's growth and development. I freaking love my Tula! It's easy to put on and your baby (and kid) can sit comfortably (and you'll be comfortable too) in the pack until they reach 45 pounds. There's a design, color or pattern for everyone, and I never go anywhere without mine.
This isn't your typical play mat — it has tons of games and activities for babies and comes with a guidebook for parents. Not to mention it's got a super stylish design so you won't want to hide it away when your baby isn't using it.
Snuggly infant sleep sack + calming weighted blanket = baby heaven. This sleep sack is lighted weighted to feel like a hug so your baby will feel chill and relaxed even when they aren't all cozy in your arms.
How cute is this?! Forget those utilitarian and bulky high chairs. This one will save space and make you smile.
A Montessori subscription box, and where has this been all my life? There are eight levels of developmentally-appropriate toys for kids from birth to three years.
Buy this for every pregnant mom or new parent–because it is a damn dream. The perfect transition when you can't swaddle because they've started to roll, but still need that cozy comfort. They will look like an adorable starfish, and they won't be able to scratch their face off.
Everyone loves an Ergo, and this is their recent addition. Works for newborns without an insert, and grows with your child. Scary Mommy's managing editor, Samantha Angoletta, says "I keep an Ergo in my van, in my house, at my grandma's, and in my husband's car too. I want to have access to one at all times, especially with 4 kids."
It's definitely on the pricey side, but this truly mobile breast pump fits inside your bra and has no tubes, cords, or hanging bottles to hold you back–the milk is collected in either a spill-proof bag or the reusable container inside the pump.
This lightweight and compact travel system has everything you need to be on-the-go. It's high-quality, but won't break the bank.
With so many baby products out there, it's nice to have some top picks narrowed down, right?
Editors may receive samples and/or a share from purchases made via links on this page. All opinions are our own.
This article was originally published on