The Spice Girls Are Getting A New Movie -- And Yes, All 5 Members Will Be In It
by Cassandra Stone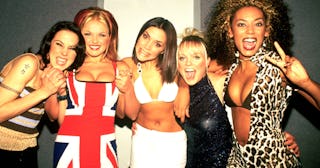 Photoshot/Getty
The new Spice Girls Movie will release 23 years after 1997's 'Spice World'
OMG, grab your favorite pair of platform boots and a Union Jack sequined dress because the Spice Girls are coming to the big screen with a new movie! Yep, that's right. The new animated film will feature all five Spice Girls, including Posh, which is huge because Victoria Beckham is sitting out their reunion tour. But she's on board for this, so… GIRL POWER.
The movie details are being kept under wraps for the most part, especially because it's in the early stages of development with Paramount Animation. What it will include, according to The Hollywood Reporter, is a slew of new songs as well as their '90s classics that all fans know by heart and love with every fiber of our being.
It's scheduled to release in 2020 at the earliest, just in time to give the entire world the brain break we'll all need during the big election year here on this side of the pond. But the best news of all is that all five ladies are on-board for the movie.
The iconic group consists of (as if you could forget): Melanie Brown (Scary), Emma Bunton (Baby), Melanie Chisholm (Sporty), Geri Halliwell (Ginger) and Victoria Beckham (Posh). The movie already has a producer and screenplay writer ready to go. The Spice Girls themselves are also directly involved in the creation of the movie. They "had an idea that we've been developing," Paramount Animation president Mireille Soria tells The Hollywood Reporter. "They are very involved."
As for the reunion tour, there were rumors swirling around for awhile — and last summer Mel B confirmed the news herself. It's underway right now in the U.K., with four out of the five (sorry Posh) bringing fans across British stadiums the delight of their lives.
In a press release shared by the group last fall, Emma Bunton said of the announcement: "It's time to spice things up all over again!!!!! I can't wait to perform to our forever supporting fans and a whole new spice generation! Love you all!"
The new animated movie is the first film the gals will have starred in together since the iconic Spice World, which saw them dealing with the trials and tribulations of fame and friendship as they went on adventures and worked toward becoming the biggest girl group of all time. Oh, and in case you're wondering, you can totally rent the Spice World bus as an Airbnb now. Because of course you can. (It's amazing, though.)
Though she's not part of the reunion tour because she's busy running a fashion empire, Victoria Beckham is still very positive about her time with the group. "You know, there's so much bad stuff going on, and the Spice Girls were about fun and celebrating individuality," Beckham told Vogue. "I think there's so much that the brand can do, and it's such a positive message for young kids."