Dads Must Have Changing Tables In Bathrooms Too, New Bill Says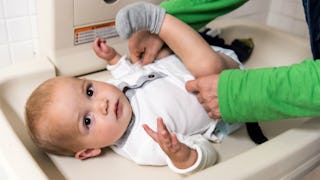 Image via Getty Images/Juanmonino
Newly passed bill requires all public bathrooms to have changing tables — yup, even the men's room
When New York City Council member Rafael Espinal saw a dad hunched over a bathroom sink at a mall in Queens trying to change his baby daughter's diaper, he was shocked. Yes, we parents are masters at handling whatever curveballs come with taking our kids out in public, but Espinal knew that changing a baby over a sink because there's no changing table available is just plain wrong.
"It was terrible to see a father changing his child's diaper on top of a public sink where hundreds of people wash their hands after using the restroom," he told HuffPost. "Parents should be changing their children's diapers with a little more dignity, in a space that's sanitary."
Espinal started looking into the public changing table situation and realized things aren't always better in the women's restroom either. After all, space in NYC is tight. So moms do what they need to do, using the floor or sink to get diaper duty done.
Thankfully, lack of changing table panic will soon be a thing of the past (for NYC residents at least). The New York City Council just passed a bill introduced by Espinal requiring the restrooms of new developments — yes, even the men's rooms — to have changing tables. Older developments will have to add them if the property undergoes renovations.
Grocery stores and stores that sell kid's clothing are generally pretty good about having changing tables already, at least in the women's restrooms. But this new bill will see changing tables added to places like movie theaters, restaurants and coffee shops. More and more parents take their kids with them everywhere, and it's time our society reflected that parenting shift, especially in establishments hoping to take our money. The bill even requires changing tables in nightclub restrooms, which hey, if you've got a sturdy carrier and a good pair of noise cancelling baby headphones, do you momma.
While NYC is the first major city to pass changing table legislation like this, dads requesting a clean space to change their babies' poop bombs is hardly a new issue. Aston Kutcher made a public plea for more changing tables in men's restrooms nearly three years ago when he ran into trouble trying to change his own kids. Last year former President Barack Obama signed the Bathrooms Accessible in Every Situation Act requiring all federally owned buildings to have changing tables in both women's and men's restrooms.
NYC's new law on changing tables is one the whole country should really consider adopting. Dads are more involved in their kids' care than ever before. According to a 2013 CDC study, "nine out of 10 fathers (90%) who lived with children under age five bathed, diapered, or dressed the children, or helped them bathe, dress, or use the toilet 'every day' or 'several times a week.'" And Espinal says he didn't get any major pushback on the bill, possibly because the cost of a changing table for a public restroom is pretty affordable, coming in between $155 and $185. "It's a low cost for a big benefit," he said.
Espinal's not a father, but he's hopeful the success of his bill will encourage more men to reach for the diaper bag when they smell the time has come. Some kid tasks are messy, but it's easier when you share them. "I don't think the burden should just be on women,"he said. "Men should step up and be on diaper duty as well."