Frontline Nurse Choir Wins AGT Golden Buzzer With Emotional Performance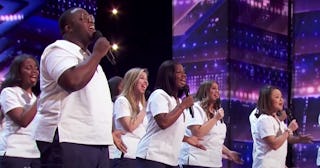 America's Got Talent
A choir of New York-based frontline nurses earned the Golden Buzzer with their stunning performance of "Lean on Me"
Who said we were done crying today? We may have just wiped the tears off our face after watching that emotional trailer for the upcoming Anthony Bourdain documentary, Roadrunner, but the waterworks aren't over yet. Nope, now we're shedding a different kind of tear — joyous, happy tears — thanks to the Northwell Health Nurse Choir's stellar, goosebumps-inducing, Golden Buzzer-worthy performance on America's Got Talent.
The Northwell Health Nurse Choir, comprised of 18 nurses from New York who served on the frontlines amid the COVID-19 crisis, took to the America's Got Talent stage to wow the judges — and viewers — with a lively, moving mashup of "Lean on Me" and "Stand by Me." The performance was so good, judge Howie Mandel hit the Golden Buzzer on the Season 16 premiere that aired on June 1, effectively fast-tracking the group to the show's live final rounds.
"One word comes to mind, and it's 'heroic,'" Mandel tells the group. "And what a perfect song: 'Stand by Me.' You stand by people you don't know. You watch horror, and you watch strength."
Mandel then stands up.
"You know why I wanna stand for you? So I can do this," he says, as he hits the Golden Buzzer. The entire group then jumps for joy on stage, and if you aren't bawling by now, you might want to check your pulse.
"Honestly, it was a blur on-stage once the judges hit that Golden Buzzer – I couldn't believe it. From the ICUs to Hollywood, look at how far we've come!" says Winnie Mele, director of perioperative services at Plainview Hospital, in Northwell Health's press release.
According to the release, Northwell Health is the largest healthcare provider in New York. The nurses, doctors, and staff have treated more than 200,000 COVID-19 patients and were considered one of the nation's first epicenters in March of last year, when the pandemic began.
The Northwell Health Nurse Choir was formed amid the pandemic and combines the talents of nearly 20 nurses across Northwell's 23 hospitals, which boast a combined total of more than 19,000 nurses.
"What makes this choir so special is we're all frontline nurses. We're not professional singers. We take care of patients," one of the choir members says during the America's Got Talent premiere. "This choir has been a beacon of hope for us."
The group first performed at a benefit concert called Nurse Heroes Live! on Thanksgiving Day. The concert not only raised awareness of the global nursing shortage, but it also raised money for nursing scholarships.
"After everything we have been through during the pandemic, we want to show that together we can rise up, we can support each other and we can get through any challenge we may face," Emanuel Remilus, nurse at Cohen Children's Medical Center and choir member, says in a prepared statement.
The Northwell Nurse Choir will return to California in August for the live rounds, when America votes for their favorites. They hope to take home the grand prize of $1 million dollars.
"This group of men and women are a symbol of the strength and resilience of Northwell Health and the entire nation as we endured the COVID crisis," says Michael Dowling, president and CEO of Northwell Health. "I am immensely proud of our Nurse Choir and what they represent; I will be rooting for them every step of the way."
As will we.
America's Got Talent airs Tuesdays at 8/7c on NBC.