Take A Look At The First Gender-Free Clothing Store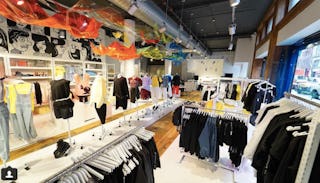 Image via Instagram/Phluid Project
The Manhattan store will feature clothing, shoes, accessories, and home goods
We've made strides as a society to begin recognizing gender nonconformity, but we have such a long way to go. One organization is doing their part to close this gap by opening the world's first gender-free store and it's everything you'd want it to be, and more.
The 3,000 square foot part retail, part "experiential platform" space caters to gender-nonconforming and gender fluid consumers. According to their website, The Phluid Project, who own the space, intended to "create a place for self-expression and creative sharing where strangers, allies, friends – people – can unapologetically be themselves."
Their first location, which opened this month in Noho, is full of apparel, accessories, shoes, and more — for everyone. They call themselves "the first gender-free store in the world," and judging by the pictures, it looks heavenly for all.
https://www.instagram.com/p/BgH0gVfDGHs/?taken-by=thephluidproject
The Phluid Project sell their own label, which accounts for about half of their products in the store, and the rest is made up of popular brands like Kinfolk, Champion, Gypsy Sport, Context and Le Spec.
But the store is more than just another day out shopping. "I feel like I need my emotional support friends when I go shopping," Jacob Tobia told Racked. "Lord knows it already takes enough damn courage to try on a dress that you think might be a little too small. I don't need to deal with gender courage on top of trying to figure out the self-esteem stuff that everyone experiences."
What's more, most of the pieces in the store are under $300, so no matter your price range, you're bound to find something in the budget.
https://www.instagram.com/p/BgRVwlSjV8v/?taken-by=thephluidproject
https://www.instagram.com/p/BgZP1ybjVcD/?taken-by=thephluidproject
With big retailers like Walmart and Target doing away with traditional gender norms (ahem, finally), it was only a matter of time before there was a store devoted entirely to just "people." Everyone should feel comfortable living, being, and yes, shopping, without labels making them feel one way or another.
https://www.instagram.com/p/BgUrN01jepL/?taken-by=thephluidproject
Store founder Rob Smith said the idea behind the store is meant to push the boundaries of what people are comfortable wearing. "Phluid (fluid), because nothing is constant and we should always be challenging ourselves and eliminating boundaries. PH, because when we are balance, life is in balance, creating peace, love and acceptance of ourselves and others. Project, because it is a collaborative effort and I'm going in with a plan, but willing to learn and discover along the way."