The Vaccine Mandate For NYC Teachers Just Got Blocked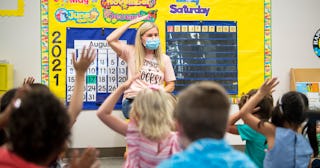 (MediaNews Group via Getty Images)
New York City schools have been temporarily blocked from enforcing a vaccine mandate for teachers and other school staff just as it was about to take effect.
As if this school year hasn't already been stressful and confusing enough. About a month ago, New York City Mayor de Blasio issued a vaccine mandate for teachers and other staff working in the nation's largest school district with a deadline for staffers to have at least the first dose of the vaccine by Sept. 27.
Late on Friday, Sept. 24 — as in less than two days before the COVID mandate was supposed to take effect —a federal appeals judge temporarily blocked the New York City school system from enforcing it. The case, brought on by four city educators, has been referred to a three-judge panel on an expedited basis and is expected to be reviewed on Wednesday, Sept. 29.
"We're confident our vaccine mandate will continue to be upheld once all the facts have been presented, because that is the level of protection our students and staff deserve," New York City Department of Education spokesperson Danielle Filson told NBC New York. While the mandate is not in effect, unvaccinated staff members must take weekly COVID tests and submit their results to the district.
Even though the mandate could be reinforced shortly, two days in the largest school district in the country is plenty of time for the more transmissible Delta variant to spread exponentially.
Unlike other school districts, New York City public schools are not offering any remote instruction this year. About 82% of New York City school teachers and staffers are already vaccinated, according to Filson. The United Federation of Teachers (UFT), a New York-based teacher union, says that roughly 6,000 of their members have not been vaccinated, with about half applying for medical exemption.
Parents have mixed feelings on what this means for the safety of their children, but more than anything, people seem confused. Others are frustrated with how the entire mandate was handled in the first place. It seems like there was a lot of confusion and a lack of planning that had people shaking their heads:
The main sentiment, however, is the same, frustrating song we've all been singing. Why the hell are adults refusing the vaccine?
If the mandate were to be re-approved on Wednesday, how quickly would staff have to comply?
New York Post reported that Schools Chancellor Meisha Ross Portner sent an email to Department of Education staff on Saturday saying "we should continue to prepare for the possibility that the vaccine mandate will go into effect later in the week."
In the meantime, you know the drill: wear a mask in public spaces, get vaccinated if you are eligible, and talk to your loved ones about the importance of vaccination if they are hesitant.