New York Wants To Outlaw 'Virginity Tests' After T.I.'s Comments About His Daughter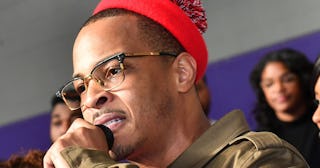 Paras Griffin/Getty Images
New York legislators want to ban "virginity tests" altogether after T.I.'s comments about taking his daughter to have her "hymen checked"
Remember earlier this month when rapper T.I. said that he takes his 18-year-old daughter Deyjah to the gyno every year to have her "hymen checked?" Yeah, you probably remember it, because you likely lost your mind that day. After T.I.'s medieval treatment of his daughter went viral, New York State legislators took notice and have put the wheels in motion to outlaw "virginity tests" by gynecologists across the state of New York.
RELATED: The Rice Purity Test: Shaming Women For Nearly A Century
A so-called "purity exam" or "virginity test" involves a doctor checking to see if a woman's hymen is still intact, which is supposed to indicate virginity. This is problematic for a number of reasons including the facts that 1) virginity is a social construct 2) there is no medical necessity to check one's hymen and 3) the hymen can tear for a number of reasons besides sex. Although ethicists already caution doctors against doing said "exam," a few New York State legislators want to outlaw the practice altogether.
The New York Senate bill, S6879 (sponsored by several New York state senators and assembly members) asks that we "forbid the performance of a hymen exam on women as a means to ascertain whether a woman is a virgin" on the basis that "the term 'virginity' is not a medical or scientific term. Rather, the concept of 'virginity' is a social, cultural and religious construct — one that reflects gender discrimination against women and girls."
If the bill is passed, any doctor that performs a hymen exam would be charged with professional misconduct and possibly even sexual assault charges. If New York state succeeds in outlawing this barbaric practice, the rest of the country could follow suit.
https://twitter.com/jetpack/status/1192187638511554560
T.I. broadcast his daughter's annual gyno visit on the podcast Ladies Like Us where he said that he personally drove his 18-year-old daughter to the gynecologist the day after her birthday for the so-called "exam."
"And so then [the doctor] come and say, 'Well, I just want you to know that there are other ways besides sex that the hymen can be broken like bike riding, athletics, horseback riding, and just other forms of athletic physical activity,'" T.I. said in the interview. "So I say, 'Look, Doc, she don't ride no horses, she don't ride no bike, she don't play no sports. Just check the hymen, please, and give me back my results expeditiously.'"
"I will say, as of her 18th birthday, her hymen is still intact," he added.
T.I. was given a chance to explain his behavior on Jada Pinkett-Smith's Red Table Talk and instead he claimed that the internet took his story too "literal," that he was just trying to "protect" her, that a pregnant teenage daughter is worse than one of his son's getting someone else pregnant, and that he joked about taking Deyjah on her 18th birthday because he stopped taking her for her yearly hymen checks when she was 16. Uh, okay?
As for T.I.'s daughter Deyjah? Well, she unfollowed him on social media.
This article was originally published on