People Set Up An Entire Thanksgiving Feast On A NYC Subway
by Leah Groth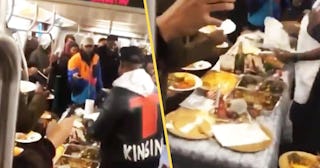 Nessa On Air/Twitter
A bunch of commuters on a New York City subway decided to celebrate Thanksgiving a little bit early, throwing a massive feast on the L train
There is no place quite like New York City. The largest metropolitan area in the country, it is home to the biggest buildings, the most people, the best shopping, shows, and the biggest parades. It is undeniable that NYC has spirit, heart, and a whole lot of eclectic people who are always thinking outside of the box. For example, this week a bunch of commuters decided they had a lot to be thankful for, so they decided to throw an early Thanksgiving feast to celebrate — on their subway train.
Sunday night, the Brooklyn-bound L train looked a little bit different. Not only was there a huge table set up in the middle of one of the cars — but it was covered with all the T-day essentials like turkey, mashed potatoes, cranberry sauce, and all the fixings.
"There's nothing like the holiday season in the city," Giselle Guzman wrote on an Instagram story, showing off the majorly impressive spread. She told NBC New York that she hopped on the L train at Bedford Avenue in Williamsburg and witnessed the celebration.
Like most viral videos we see today, the spectacle appeared to be staged, which didn't make it any less awesome. Men and women happily feasted on cornbread, cider, sides, and spirits.
"Get my man a plate right here. What else do you want on it?" one woman exclaimed in a video posted to Twitter.
Of course, a few people questioned just how sanitary the meal was, considering that subways are hotbeds for germs and probably aren't cleaned very often.
"The bacteria, rats, smells, doo doo particles in the air. Hard pass," wrote one Twitter user.
https://twitter.com/jetpack/status/1198956736058707971
"Anything for some likes. There was a study about 10 yrs ago in ch. 9 news that found feces, sperm, E. Coli and various other bacterias on the poles of the trains and buses Definitely a heck naw," wrote another.
The Thanksgiving feasters clearly didn't mind that there could be digesting bacteria left behind on the train, happily wiping their mouths with toilet paper after they consumed their turkey dinner.
Other people clearly thought the whole thing was hilarious, pointing out obvious facts — like um, when the train stops suddenly, the food is going to fly everywhere. But all in all, it appears that everyone involved had a blast.
These festive NYC residents enjoying a nice dinner during their commute is just the kind of heart-warming story we need to kick off the Thanksgiving week.
This article was originally published on