News Anchor Goes Into Labor On Live TV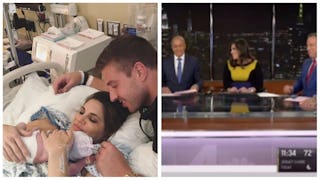 Image via Instagram/Natalie Pasquarella/News 4
Nothing like having your water break on live TV to really test your nerve
We all have a birth story. And all of us who have carried a baby for nine long months and delivered them into this world should feel like the boss that we are. But one news anchor will have special video evidence of the moment she went into labor – because she was live on air in the middle of a broadcast when it happened.
NBC News 4 New York anchor Natalie Pasquarella welcomed a baby boy this week after her water broke during the 11 p.m. news Tuesday night. She and her co-anchors were in the middle of a segment about Twitter's possible character limit increase when Pasquarella responded to a question with a little giggle. Then she waited for the newscast to end before letting anyone know her water broke, NBC News 4 reports. "That little laugh that was the moment Natalie's water broke," a co-anchor said while replaying the evening's broadcast. "Live on this set, live on this air. As a true professional, Natalie calmly finished the newscast and then she went to the hospital."
Not only does Pasquarella not say anything, she keeps on joking around with her co-anchors like nothing happened, even asking one of them "So, what do you think, Bruce?" instead of "Holy fucking shit, Bruce. I'm sitting in a puddle of water over here so could you be a dear and call my husband because I'm about to have a baby on live TV," which is more along the lines of what we would've shouted.
I have a friend who went on and on about how her water simply couldn't break at work because it was "not part of her plan." Sure enough, she called me from the bathroom stall midday and it went something like this:
Her- "I think my water just broke."
Me-"That's so awesome! You need to go to the hospital NOW."
Her-"No way, I'm at work. This is so embarrassing. What am I supposed to tell my team?"
Me-"THAT YOU'RE HAVING A BABY."
Her-"This is unacceptable. I said I did not want my water to break at work."
Me-"Well, you should have a sit down with her the moment she comes out to let her know this is not how shit's going to work in your house."
I guess we can't all be as cool under pressure as Pasquarella.
The new mom welcomed her baby boy on Wednesday — just 13 hours after broadcast executive producers and fellow team members at 30 Rockefeller Plaza got her to the hospital. Baby Jamin James Pastore weighed in at five pounds and 6 ounces, making his debut a few weeks earlier than expected.
A beautiful blessing decided to make his entrance early! Thankful for all of the well wishes. Our hearts are full!" she posted to Instagram.
Congrats to Pasquarella on her new baby boy and for having a poker face that will come in handy throughout parenthood.