Large NYC Hospital System Bans Partners During Childbirth Due To Coronavirus
by Leah Groth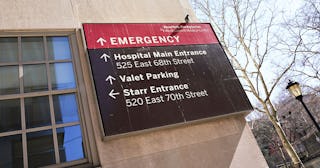 Cindy Ord/Getty
NewYork-Presbyterian health care system has announced that visitors to those giving birth — including partners — will no longer be allowed during childbirth due to the novel coronavirus
According to recent reports, the rapidly spreading novel coronavirus is hitting some parts of the country harder than others. Currently, the majority of coronavirus cases in the United States are centralized in New York City. As part of the battle to defeat the highly infectious and potentially deadly virus, one major hospital system in the state has opted to ban visitors for patients who are about to give birth — and that includes their partners.
"At this time, no visitors including birthing partners and support persons are permitted for obstetric patients," NewYork-Presbyterian wrote about the policy change on their website March 23. "We understand that this will be difficult for our patients and their loved ones, but we believe that this is a necessary step to promote the safety of our new mothers and children."
"For the time being, we really do need to exclude all visitors, including partners, for women admitted in labor," Dr. Dena Goffman, chief of obstetrics at Columbia University Medical Center, explained on Sunday during a daily leadership briefing for the NewYork-Presbyterian health care system, per CNN. She added that the move was a "very difficult decision and not one taken lightly."
NewYork-Presbyterian, which includes 11 facilities and is one of the largest hospital systems in the world, have also decided to test every woman who is in labor for for Covid-19, regardless of symptoms. Goffman explained that this is because numerous patients with few to no symptoms upon admission, and others with atypical symptoms, later tested positive for the novel coronavirus. Additionally, "many symptoms of labor and of pregnant women really mimic some of the symptoms of Covid-19" — including fatigue and shortness of breath.
"As a result, these women were not identified by our usual screening, infection prevention and control, or testing processes, and therefore our practices for protection for Covid-19 were not implemented. In this case, many staff members were exposed," Goffman said.
This can also prevent the spread of the virus through newborns, who may have been exposed to coronavirus via their mothers. Doctors can place the babies in isolation if their mothers test positive, avoiding any potential outbreak in nurseries or neonatal ICUs
Goffman discussed the possibility of allowing partners to participate in the birth via tablet computers. "We recognize that we will need to provide additional support for moms, as well as mom and baby pairs, as they're in the hospital through the duration of their stay," she added.
According to New York Governor Andrew Cuomo, there are over 20,875 cases of COVID-19 in the state — which accounts for a stunning five percent of cases worldwide. "You can see that New York, far and away, has the bulk of the problem," he said. Of those, 157 people have died so far.
Information about COVID-19 is rapidly changing, and Scary Mommy is committed to providing the most recent data in our coverage. With news being updated so frequently, some of the information in this story may have changed after publication. For this reason, we are encouraging readers to use online resources from local public health departments, the Centers for Disease Control, and the World Health Organization to remain as informed as possible.
This article was originally published on