'Slow Down' Video Will Make You Ugly Cry Just In Time For Mother's Day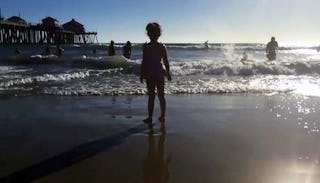 What is that cliché? The days go so slow but the years go so fast. No one understands this more than a parent.
Singer Nichole Nordeman shared a little reminder on her Facebook page this week in the form of a video that will make you ugly cry right in time for Mother's Day. I'm not being dramatic here, get your tissues. Nothing makes a mother weep faster than a video reminding her that her children are growing faster and faster and further and further away from her each day, careening toward that inevitable moment when they leave the house and you're left staring at pictures of them as a baby, hoping they'll remember to call that week and — oh, sorry. Just me?
*Sobs uncontrollably*
Slow down
Won't you stay here a minute more I know you want to walk through the door But it's all too fast Let's make it last a little while I pointed to the sky and now you wanna fly I am your biggest fan I hope you know I am But do you think you can somehow Slow dow
Ughhh. Kill me now.
"I don't know of a more uttered or whispered phrase from a mother of any age, about her child of any age, than 'It's going by too fast.' I feel like I spend my life trying to slow time," Nordeman writes under her video post. "Trying to celebrate the growth and the milestones of my children, and then secretly day dreaming about building a time machine in my garage, so I can return to rocking my babies at midnight." Yup. Guilty.
"If you've ever looked at your child running across a field, or striding across a graduation stage, or walking down the middle aisle of a church clutching a bouquet, you'll know why this song is special to me," she writes. "Please enjoy the video… remembering the moments we wish we could slow down, and sharing them with those we love most."
I'm not crying. YOU'RE crying.
This article was originally published on